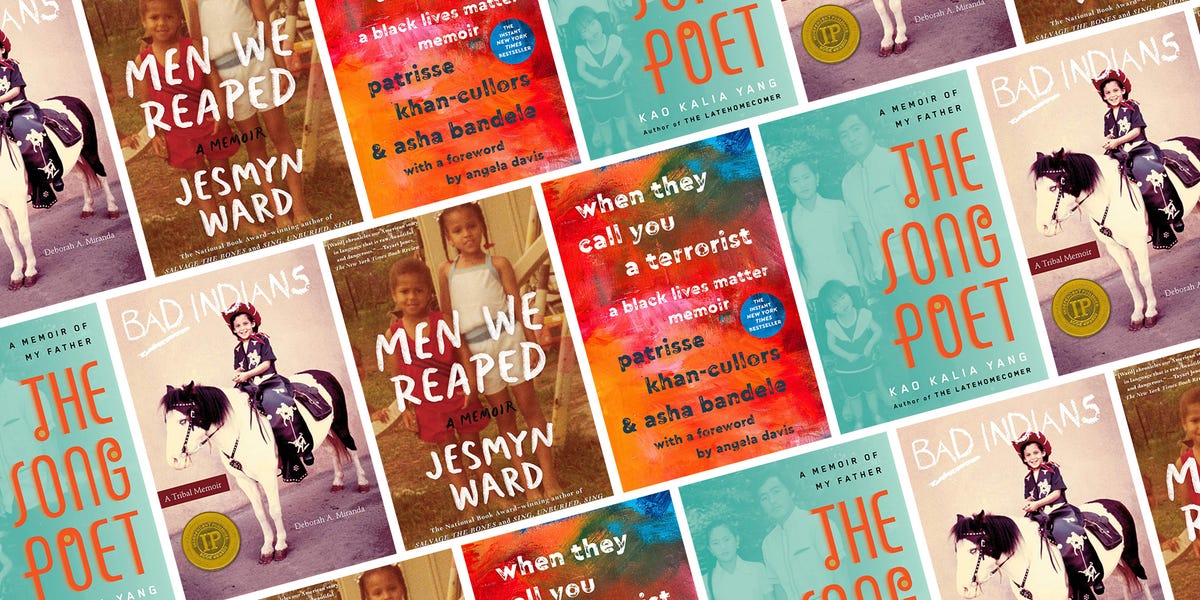 As an activist and advocate, empathy and understanding are at the forefront of everything I do. So much of the bigotry and hate we see in the world is rooted in ignorance for the lived experience of other people and a lack of compassion when people respond to those experiences in certain ways. By taking extra time to learn about other people around us, we grow to understand our differences, and see that the world isn't black and white. Most of us live somewhere in the gray and simply want to feel that our reality is both acknowledged and affirmed.
Easier said than done? Not quite! Below are some of my favorite memoirs that help me step into someone else's shoes. Read these fabulous autobiographies and personal reflections, then take the time to learn about the people you live, work, and play with. What new insight can you gain by taking the time to empathize?
Men We Reaped by Jesmyn Ward
I know this gets said often, but Men We Reaped is truly a must-read. Uncovering the generation of discarded and invisible Black men through the lenses of both race and class, Ward masterfully exposes just how systems of oppression converge on the ignored "Middle America." We speak often of intergenerational trauma, but Ward both pulls back the blinds and allows us to empathize with men rarely given the chance to be fully seen. What do we owe these men and the communities they are a part of? At the very least their stories deserve to be told and read.
We Are Not Here to Be Bystanders by Linda Sarsour
When it comes to Muslim representation, most Americans only know one-dimensional caricatures. So to come face to face with "an unapologetic Mulsim American woman from Brooklyn" can be much-needed and refreshing. This memoir shows the humanity, tenacity, and profound love of Linda Sarsour, pulling back the blinds on a woman and community who have been both villainized and misunderstood. Sarsour invites us to step off the sidelines and to truly be in community with people unlike ourselves.
Surpassing Certainty by Janet Mock
The second of Janet Mock's memoirs, Surpassing Certainty is the coming-of-age story America needs to be reading and watching. It's one that involves sovereignty over one's own body and expression, and navigating your dream industry—one that centers Eurocentric "norms"—as a Black, Hawaiian trans woman. In a way that is both so relevant and also so unique, Janet weaves us into her world and reminds us that we have more in common than we thought and that we are all worth defending. Especially trans women of color.
The Distance Between Us by Reyna Grande
Grande bravely takes us into her world and the vantage point of two people seeking a better life for their child. It's a sentiment so many of us can identify with and yet is so criminalized across society. In The Distance Between Us, Grande doesn't just highlight the dangerous and courageous trek across the U.S.-Mexico border, but also the experience of a recently immigrated young person and how her family journeys to both fit in and stand out. In a country hell-bent on evaluating everyone's worth, the author reclaims her time and shows us why we should inject way more empathy when discussing immigration.
We're Going to Need More Wine by Gabrielle Union
Union's memoir is overflowing with genuine self-awareness and deep honesty. We learn not just the story of one of the most successful actresses of our time, but also of how she practiced self-accountability to become the confident, compassionate, and groundbreaking woman she is today. Through We're Going to Need More Wine, we can all learn more about looking within and radiating out.
The Song Poet: A Memoir of My Father by Kao Kalia Yang
The Song Poet writes so many Asian American histories and traditions into one memoir: oral storytelling, the impact of American imperialism on Southeast Asia, immigration, and family. Above all, we see how so many families have to trade in aspirations of the American Dream for poverty, racial discrimination, and learning to build community in the face of such intentional isolation. This memoir teaches us exactly how assimilation can stifle cultural pride and connection.
A Little Piece of Light by Donna Hylton
Most people who have never spent time in an American jail or prison can't fathom the extreme levels of injustice present there. This is especially true for incarcerated women who are completely invisibilized in criminal justice conversations despite being the most rapidly growing prison population. Hear directly from Donna Hylton about the ways prisons perpetuate violence ensuring that harm is never truly repaired. 
Planet of the Blind by Stephen Kuusisto
Approximately 50 million Americans live with a disability and yet there's so little awareness or accommodation for the full range of our citizenry. We live in a world that was built for certain bodies, and most of us with neurotypical and physically-normalized abilities have no idea just how isolating it can be to live with a disability. In his memoir, we come to know and love the Stephen  Kuusisto battling denial, pity, and loneliness to find understanding, acceptance, and the will to be a part of a more inclusive world.
When They Call You a Terrorist by Patrisse Khan-Cullors and Asha Bandele
This is one of the top five best books I've ever read and should be required reading for the whole country. Khan-Cullors masterfully tells her story and the story of so many Americans living at the margins of society but without leaving us in despair. On the contrary, she provides us with a roadmap out of powerlessness and towards a re-imagined future where America lives up to its projected values. The book pulls back the cloak on what it means to be "radical" and showcases the entry point for everyone into this movement.
Down These Mean Streets by Piri Thomas
Within the Latinx community, Afro-Latinx people have consistently been minimized from its deep and nuanced history. Yet we know that countries like Brazil have larger Black populations than the U.S. and countries like Colombia and the Dominican Republic have ratios on par with us. In this memoir, we begin to learn how often Afro-Latinx people are forced to choose between their Blackness and their Latin culture despite being deeply impacted by both.
Bad Indians: A Tribal Memoir by Deborah Miranda
When we think of indigeneity, and specifically Native Americans, we think of the past tense—as in voiceless and no longer here. This couldn't be further from the truth, and the insistence on mainstream American culture to box out Indigenous people is a part of the genocide project. In Bad Indians: A Tribal Memoir, we learn about the Indigenous people of California from the 16th century to the present. What was and is day-to-day life for them? How much has been erased from our history books? How do we begin to dispel the myth that Native Americans are a people of the past? We start here.
This content is created and maintained by a third party, and imported onto this page to help users provide their email addresses. You may be able to find more information about this and similar content at piano.io