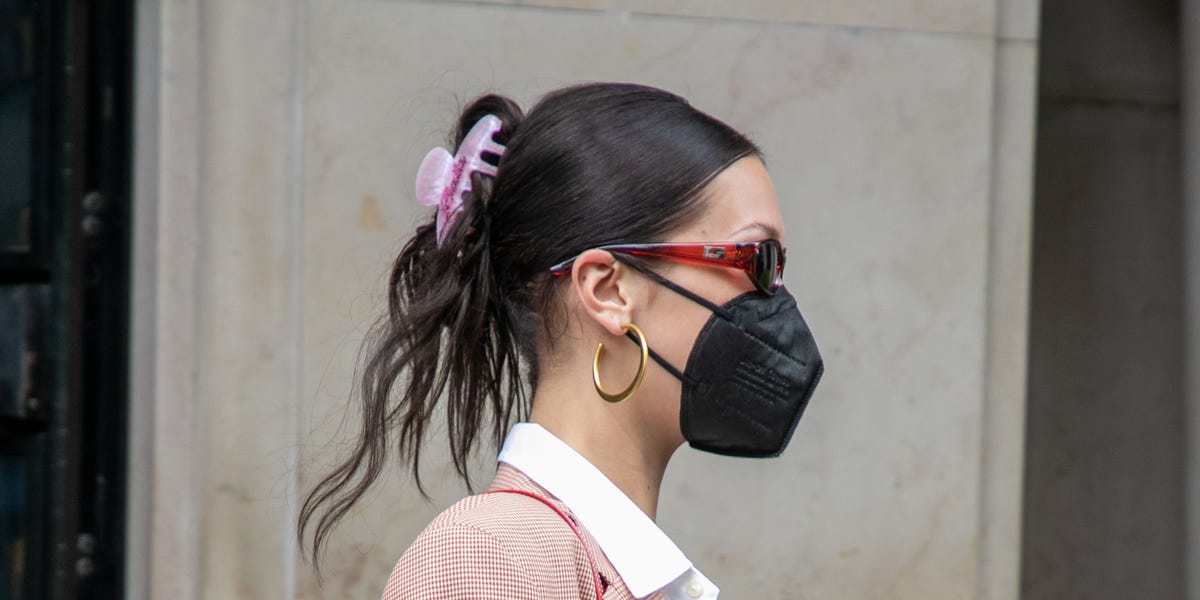 Marc PiaseckiGetty Images
Maybe it's just me, but even if I spend an absurd amount of time styling my hair, I always find that by the end of the day, my hair is up and out of my face. As the proud owner of thick, long, and substantially damaged hair, ordinary hair ties can't always handle what I've got. I love a scrunchy as much as the next girl, but when it comes to hair accessories, we might have had it right in the 90s: Claw clips are the way to go.
I'm not the only one who thinks so. Celebs like Kendall Jenner, Hailey Bieber, and Bella Hadid (also known as: The Holy Trinity), have all been spotted donning chic, outfit-matching claw clips. For one thing, they can be less damaging than tightly-wound hair ties, since they don't pull or dent your strands. For another, they come is so many different shapes and sizes that you're practically guaranteed to find one that can hold up your hair, whether you have a short bob or a mane down to your hips. And fine, yes, they're trendy and cool. Here, you can find the 14 best claw clips for every style, hair texture, and budget.
Advertisement – Continue Reading Below
1
Large Claw Clip
A checkered claw clip has been spotted on Kendall Jenner's head of hair, which means it's A-List approved. This one by CHUNKS can handle a decent amount of hair and upgrades any outfit.
2
Big Hair Claw Clip
If you tend to lose hair accessories ten minutes after purchasing, get more bang for your buck with this set of four clips. They come in Y2K-approved colors, and can handle even super thick, long hair.
3
Big Effing Clip
The name says it all–this clip is massive. Not only can it handle all the hair on your head, but this sparkly green version is so on trend that it's a miracle it's not sold out.
4
Gold Open Shape Claw Clip
Who says clips can't be red carpet ready? This gold claw clip is delicate and sweet, and totally appropriate for even fancy events.
5
Marley Claw Clip
Keep it simple with this medium-sized hair clip that will suit every outfit in your wardrobe. The cost is decent, so you might as well get one in every color.
6
F**k Clip
Why say it when your clip can do all the talking? A little rhinestone expletive on a hair clip might just end up being the coolest thing you own.
7
Yoko Clip
If you're still not over the tie-dye trend, you might as well get a claw clip that matches. This is perfect for that super cool half-up half-down hair look that all the celebrities are wearing.  
8
Mega Clip
If you've got a ton of hair that most clips can't handle, the Mega Clip from Kōv can take care of you. I use this one for my thick hair, and it never slips or leaves any strands out.
9
Contemporary Cherries Claw Hair Clip
For a cute little upgrade, this claw clip has a cherry adornment. I recommend wearing it to picnics, or while eating a cherry pie.
10
Colorblock Claw Clip
Can't choose between black and white? This du0-toned color-blocked clip means you can wear both at once. If you have a monochrome outfit going on, this is the accessory to pair it with.
11
Big Daisy Clip
Why not embrace a little youthful joy in your life? You might be an adult working a 9-to-5, but your colleagues don't need to know that pinning up your hair for that big meeting in a purple daisy clip.
12
Roxanne Hair Clip Set
For simple updos, this set of mini clips has you covered. It won't hold up all your length if you have thick or long hair, but it can pin up some length for a chic look.
13
Alexandre de Paris
Feeling fancy? This clip is adorned with pearls and is mega-chic for the lady in all of us. It can handle a decent amount of hair, and will upgrade any look.
14
Day Clip
You're keeping cozy this winter, but are your hair accessories appropriately dressed? This furry claw clip is too cute to pass up. In a pinch, it also doubles as a toy for your cats.
This content is created and maintained by a third party, and imported onto this page to help users provide their email addresses. You may be able to find more information about this and similar content at piano.io
Advertisement – Continue Reading Below