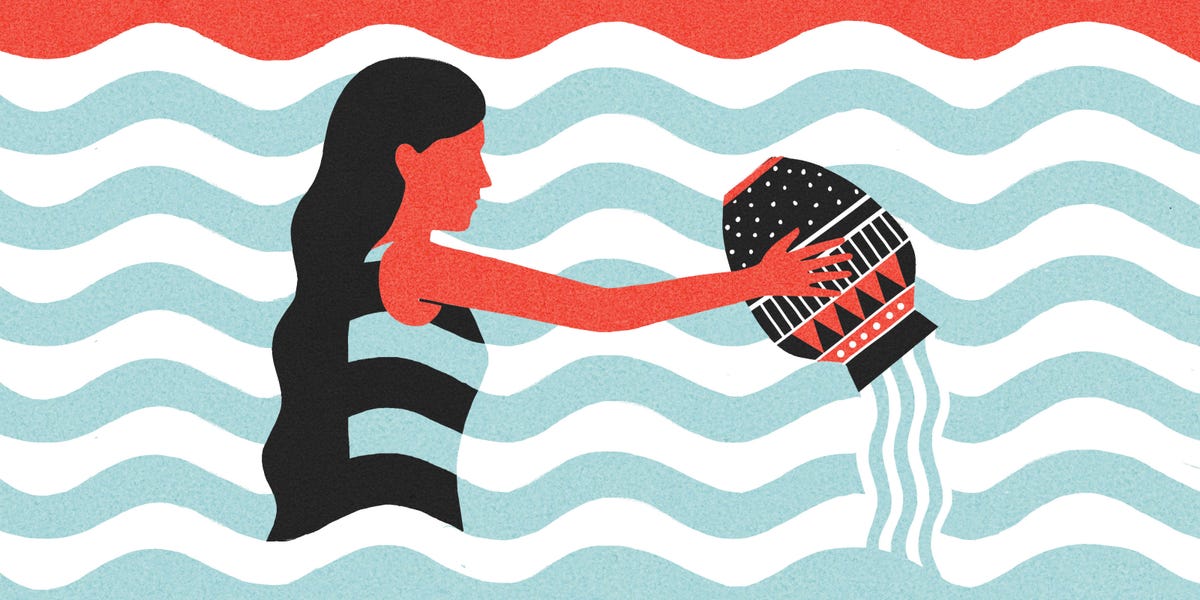 MONTH OF October
Cast a wide net! The Sun is soaring through Libra and your ninth house of expansion, travel and adventure until October 22, a time when you feel like anything's possible—and hey, why shouldn't you? This buoyant starmap is further amped up by energizer Mars, which is making its biennial blast through Libra until October 30. You could give any motivational speaking guru a run for their "idea evangelist" money with this cosmic lineup, especially near the October 6 Libra new moon, a favorable day to explore fresh business ideas, a return to school or a new philosophical outlook. 
But dial down the zealotry a touch since Mercury, the planet of communication and ideas, is retrograde until October 18. Hold off on any launches, travel plans and technology upgrades until this cycle ends too if you can! The Aries full moon on October 20 will beam into your on-the-go third house and make up for lost time. Now you can spread your message to a more receptive audience and find the perfect new phone, laptop or set of wheels. (Mercury and the third house both rule transportation.) And you can rest assured that you'll have better options and a clearer head for the task too.
Another reason to pace yourself? Since mid-August, all five of the slow-moving outer planets (Jupiter, Saturn, Uranus, Neptune and Pluto) have been retrograde. This month, they start to turn direct: Pluto on October 6, Saturn on October 10, Mercury and Jupiter on October 18. You'll regain momentum in major areas of your life that you can capitalize on for the rest of the year.
Just in time to make some power moves, Aquarius. On October 22, the Sun will move into Scorpio and your tenth house of career and success, activating your ambitions. When go-getter Mars slides into Scorpio on October 30, you'll be unstoppable on your quest to crush those 2021 goals.
The Sun is in Libra until October 22
Spread your wings, Water Bearer! The Sun is blazing through Libra and your expansive ninth house until October 22, giving you a wide-angle view on life and emboldening you to take risks—creatively, emotionally and in every way. To your future-forward sign, who's happiest when you have something big to look forward to, Libra season might be one of your favorite times of year. With your mind so open to new possibilities, you'll be able to take advantage of those spontaneous moments that can lead to new friendships and adventures. Follow your curiosity, Aquarius, and see where it takes you.
Every two years, Mars arrives to ramp up your excitement to triple-exclamation-point levels—and here it is!!! If you can slip in a getaway, even for a weekend, this month would be ideal. You want anything but "business as usual" now, making this a stellar time to launch an indie business, sign up for a workshop or class, or to expand your mind by exploring new metaphysical ideas. Shift your perspective on the world and watch yourself attract a whole different set of results.
That said, it won't be all "love and light" this go-round. Mars is in "detriment" (a frustrating position) in Libra because the warrior planet isn't exactly comfy in the sign of peace, so you may need to pace yourself. And with Mercury retrograde in Libra until October 18, not everyone will instantly embrace your cutting-edge ideas right away. Don't give up on them, but hold off on sharing until they're fully developed, which is probably a smart plan anyhow.
The October 6 Libra new moon helps you take a risk
At the October 6 Libra new moon, start putting plans into action. Where would you like to be six months from now, at the corresponding Libra full moon on April 16, 2022? And what horizon-broadening experiences do you want to have between now and then? Get some bucket-list goals on the agenda, from launching a startup venture to visiting a dream destination. Don't limit yourself—explore all possibilities during this blue-sky month without holding back! With bold Mars traveling in tandem with the new moon, the action could accelerate quickly. Six planets are also in air signs today, sparking up the most creative and "me first" zones of your chart. Don't be shy about self-promotion or venturing into brave new terrain.
Pluto also turns direct on October 6
On October 6, karmic Pluto, which is in Capricorn and your twelfth house of sacrifice and endings, wakes up from a five-month retrograde. This could be a bit like a bear rousing from hibernation—you don't know if he'll be grumpy and reactive or just groggy enough to seem harmless. Since April 27, Pluto's been back-spinning through your zone of healing and closure. Some Aquarians weathered a loss or were plunged into the depths of emotions you might not have wanted to deal with. Perhaps you did some important forgiveness work or faced up to an addictive pattern. If you've been forcing an outcome and swimming upstream, Pluto retrograde was a time to STOP pushing an agenda. The only way to free yourself from suffering is to practice radical acceptance—to the best of your human ability. That might get easier now with Pluto direct. Other important lessons from the retrograde? Allowing others to support you and for things to unfold in their own time. Now you'll start to see that tough inner work pay off. 
Saturn retrograde ends on October 10
Your ancient ruler, Saturn, wraps up a four-and-a-half-month retrograde backspin through Aquarius that started on May 23. Saturn is making a long tour through your sign from March 2020 until March 2023. This visit, which only happens every 29 years, is a profound period that can tear down and rebuild an entire part of your life. Your identity has been getting a total makeover (or, at least, a renovation) for the past two years. With Saturn in your first house of appearance, you may have done some "exterior renovations" to your style as well as your overall look.
Saturn's main mission is to make you take an unflinching look at your priorities and pursuits to ensure they're aligned with your values. Are you spending your time and energy on things that matter to you? Investing in yourself? Or are you taking care of everyone else's needs first? During the retrograde, you may have had a no-BS look at this energy distribution and hopefully seen ways to correct course.
Between now and March 2023, you have an opportunity to really show the world your most refined and sophisticated self. Play your cards right and you could end this Saturn cycle as a respected expert—even if your reputation has taken a few hits along the way. If that happened, anoint yourself the "comeback kid" and get busy crafting the image of you that the world deserves to see!
Jupiter and Mercury retrograde both end on October 18
On October 18, expansive Jupiter and expressive Mercury both end their retrograde slowdowns, restoring your hope and perspective. Plans that you were stoked about earlier this year may have stalled in the spring. And Mercury retrograde could have been a buzzkill since September 27, throwing pessimism and cold water on your inspired ideas.
Well, shake that off today, Aquarius! You'll accelerate to warp speed as lucky Jupiter wakes up from a four-month retrograde snooze in YOUR sign, igniting a personal goal, a passion project and your fierce independence. Jupiter is making a once-every-12-years visit to Aquarius from December 19, 2020, until December 28, 2021. This dynamic transit set off a fresh 12-year chapter of your life, and you've got two months left to capitalize on it. If everything feels new and a bit disorienting, that's why. But likely you feel the palpable potential that Aquarians crave. Even if you're not quite sure where this energy is taking you, it's alive and alert, and you're open to it! 
Since June 20, some of that rapid-fire change has slowed down thanks to Jupiter's backspin. That all changes now; and withclass="body-el-link standard-body-el-link" action planet Mars making an energetic trine to optimistic Jupiter today, you might just take a giant leap of faith right away. Between now and December 28, it's game ON again for your solo ventures and launches. All fresh starts are favored, and anything that sputtered can resume forward momentum. Give them all a good "sniff test" before you commit, though. Whatever you pour yourself into is likely to get supersized, so you want to make sure you're actually passionate enough about it before you commit.
The Aries full moon on October 20 gets your message to the masses
Results could show up in your conversations and friendships, especially at the Aries full moon on October 20. This lunar lift will activate your third house of communication, bringing resolutions or answers you've been seeking. Need to clear the air? These moonbeams hand you the microphone to get things off your chest. If you've been considering a collaboration or working on a shared project, you could start to see a clear path for what shape this effort should take. Look back to the April 11 Aries new moon. A venture or idea sparked back then could reach a critical turning point today. Ready to ditch a limiting mindset? Pay attention to your thoughts and words—they shape your reality. Make a change in your habits here today (start with affirmations or just commit to NOT saying certain self-sabotaging things to yourself). You'll soon experience the world in quite a different way.
Mars-Pluto square on October 22
One day to lay low arrives on October 22, when rash Mars locks into a volatile square with subterranean Pluto. Mars in your outspoken and expansive ninth house can tempt you to make a blunt comment or take a big risk that you haven't totally thought through. And with shadowy Pluto playing the blame game, you could be undermined at every turn. Someone may turn your words around on you or punish you for a misstep. You might be pointing fingers instead of taking responsibility for your actions. Add in Mercury retrograde, and the odds of a misunderstanding turning into a meltdown could reach critical levels. Although Scorpio season begins today (more on that next), give it a minute to kick in before you go racing off on a whole new endeavor.
Scorpio season starts October 22
Career becomes your focus starting October 22, when the Sun moves into Scorpio and your tenth house of ambition and professional goals. What would you like to accomplish over the next month, before the holidays kick into high gear? If excess and hedonism sent your life a bit off the rails over the past three weeks, you can corral things into more of a structure during this disciplined time. Or if you've had a million "ahh-mazing" ideas, you can now sort the winners from the duds and get to work on building those out. When go-getter Mars joins the Sun in Scorpio on October 30 (staying until December 13), you can make serious strides to the top for the rest of the year. Align yourself with power players and well-connected people or tap a mentor who can show you the ropes and save you from wasting valuable time and energy!
While it's not exactly a "stop-the-press" news alert, your biggest turn-on this month will be freedom! But for most of October, your expansiveness might reach a new high, thanks to lusty Mars trotting through your liberated ninth house until October 30 and Venus in indie-spirited Sagittarius from October 7 to November 5. If you're not happily hooked up, you may feel more experimental about dating, perhaps considering a long-distance or open relationship or seeing multiple people more or less simultaneously.
This is a great cycle for getting out and hanging with friends and not being so serious about love. You may be hard to pin down—if one can even find you—and attracted to people who think outside the box and aren't afraid to pursue their grandest visions. If you are in a relationship (or trying to be), truthfulness will build trust with straight-talking Mars in this honest-to-a-fault zone. You may have to deliver (and hear) some slightly challenging "truths," but at least you'll know where you stand.
Bring on the blue-sky visions! Your ninth house of expansion, entrepreneurship and higher learning is the area of emphasis as the Sun and unstoppable Mars spend most of the month in Libra. You can get to big plans and priorities in November—and trust us, you will. For now, allow yourself to entertain possibilities far outside your usual scope. 
The October 6 Libra new moon could set the stage for you to turn one of those dreams into reality. But take your time, Aquarius. Mercury, the planet of communication and technology, is retrograde in Libra until October 18, which could lead you to bite off more than you can chew or miscalculate how much time, money and energy is required for a specific project. 
If your confidence has been a little shaky or you feel like you've been "all work, no play" (which is not the Water Bearer way), take heart. Both Saturn (on October 10) and Jupiter (on October 18) will end their long retrogrades through Aquarius, powering forward through your sign. All that rigor and self-denial will pay off, especially while lucky Jupiter remains in your sign through December 28. Exciting news to that end could arrive with the October 20 Aries full moon, which spotlights your communication house and attracts kindred spirits and helpful collaborators. Make your announcement, drop your new product, tell the world what you've been up to these past few months!
Love Days: 24, 29
Money Days: 8, 16
Luck Days: 6, 14
Off Days: 26, 4, 12
This content is created and maintained by a third party, and imported onto this page to help users provide their email addresses. You may be able to find more information about this and similar content at piano.io