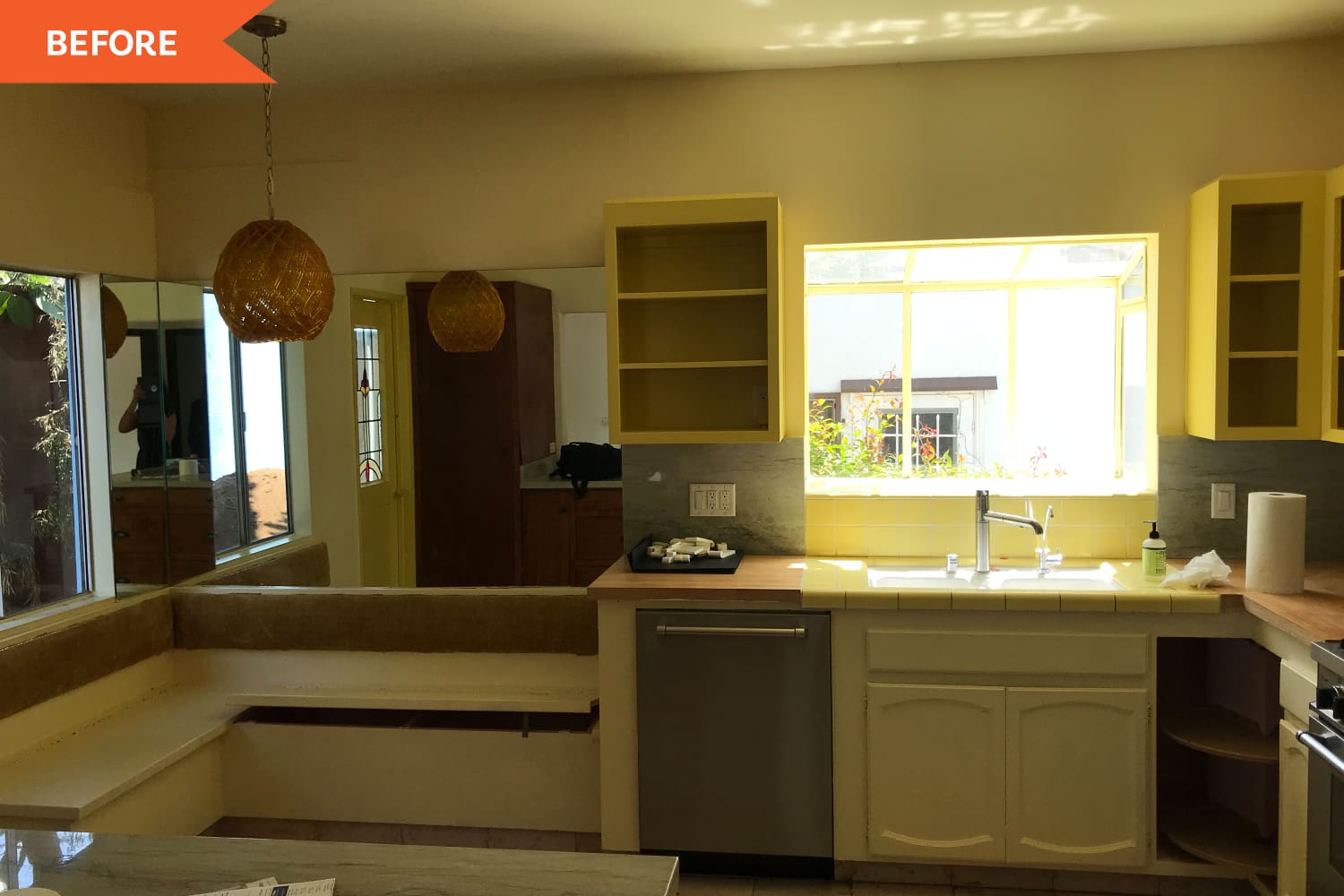 When Velinda Hellen, founder and principal designer at Velinda Hellen Design, first met her Los Angeles-based clients Jeff and Claire — a composer and a book editor for LACMA, respectively — she and her team knew the kitchen in their just-purchased home wasn't going to cut it. "The 'before' kitchen in this bungalow was a non-functional, dark abyss last renovated decades ago," says Hellen. "The space wasn't maximized, given the fact the existing design had squeezed a dining nook into the small space despite having an adjoining dining room."
On top of the questionable dining nook decision, the task lighting in the space amounted to one poorly-placed light, and the finishes weren't exactly up to date. The silver lining? The plumbing and gas line placement, as well as the windows, the pantry, and the peninsula's footprint all worked — as did the appliances themselves! So Hellen and her team (with Grace De Asis and Julie Rose as project leads) honed in on making mostly cosmetic changes (versus major structural ones, save installing new cabinetry) to bring the space into the 2020s and add their clients' personality to the design equation.
The reno process began with getting acquainted with the young family's needs and decorating style, which involved a lot of Pinterest, an on-site meeting, and questionnaires. From that, the group honed in on a Scandi-minimal meets mid-century coastal-casual direction, and Hellen's team came up with a concept for the space, sourcing materials and planning for a few spatial tweaks to increase functionality while prioritizing what could be salvaged to help with the budget.
The plan involved a palette of natural wood tones, subtle textures, and bold pistachio accents, specifically with the space's new IKEA cabinetry and Reform fronts as well as the tambour cladding on the pantry, peninsula, and over the range hood. "Cabinets don't have to match, even if they unified through their placement," says Hellen. "In this design, the [slatted] texture of the pantry and peninsula pops against otherwise flat panel cabinet faces, and the upper and lower cabinets vary in color. If done well, mixing like this will make a space feel more curated and helps steer [it] away from generic 'builder.'"
Of course, the Concrete Collaborative terrazzo floors and stack-bond subway tile backsplash are other standout features, both working to unite all the disparate elements of the palette and hammering home the mid-century meets Scandi feel. "The terrazzo flooring is hard not to love," says Hellen. "It's so pretty, yes, but it's easy to clean and is forgiving of dust and crumbs, thanks to its texture." Equally low-maintenance Ceasarstone countertops introduced another light, bright surface into the space, and new modern lighting amplified the sunlight streaming in through the old windows and door. Hits of brass with hardware, a Kohler gooseneck faucet, and other plumbing fixtures introduced a little bit more shine and movement throughout the space.
For a wow factor for the couple in terms of function, the team also worked a coffee bar with a splurge-worthy espresso machine and coffee bean grinder into the design scheme. They also incorporated a special wine fridge, too, and made sure to find ample shelf space to highlight couples' prized cookbook collection. With the former built-in dining nook nixed and turned into more cabinetry, the adjacent dining room got a facelift that the main eating area in this home deserved: a new table, lighting, and oversized art from Tappan Collective, all of which work with the colors and vibe of the newly-refreshed kitchen.
Once the design plan was in place and approved, the redo did turn into a little bit of a waiting game. "The challenge came through COVID-19 delays and an unfocused contractor that we learned was mid career-shift (becoming a lawyer), who was later temporarily re-drafted into the Israeli army mid-project," says Hellen.
While these were unique circumstances, Hellen still recommends incorporating wiggle room into your timeline and not starting work until all materials are available, particularly if you're living in your space as you reno. "Hot tip: Expect delays beyond already-long stated lead times!" says Hellen. "It's really helpful (and more time/cost-effective) to have materials on hand before beginning demo." In fact, labor was the largest expense in this entire project.
Delays aside, both designers and clients couldn't be happier with how this project turned out. "The dated, dark kitchen with limited workspace lacked all of the 'cool' our clients, who love to cook and collect cookbooks, possess," says Hellen, who also offers e-design in addition to her full-service business. "The final design plays on the clients' pull toward 'fun, bold, and mid-century' without feeling kitschy. It's clean and simple (hello, Scandi vibes!) yet bold through subtly '60s-inspired color and texture. I love the integrated hardware, lack of hardware on the uppers (push to open!), and the tambour cladding that revitalized the existing pantry/peninsula design."