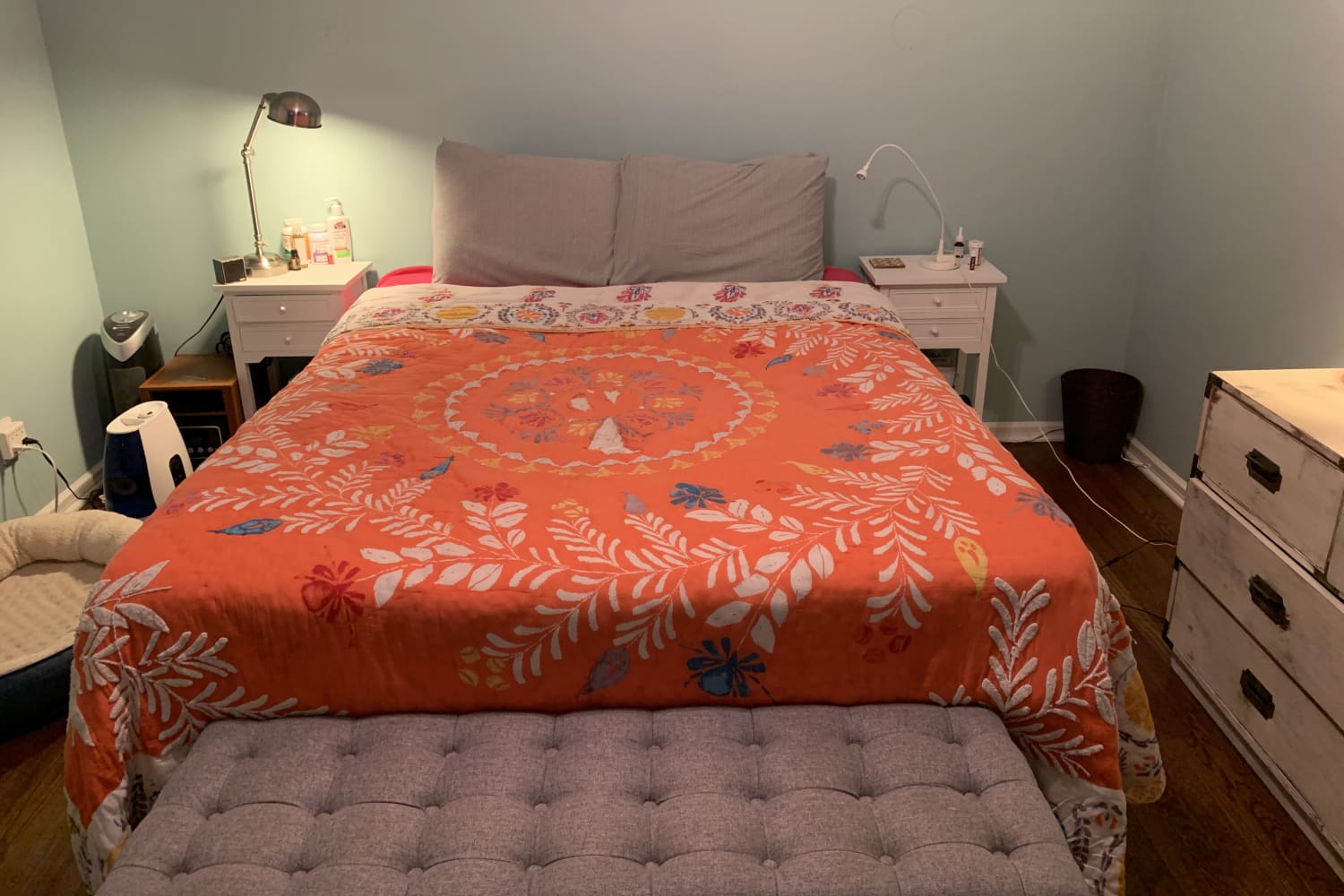 November is Family Month on Apartment Therapy! We're sharing stories all month about families — whether that's partners, kids, roommates, parents, pets, or plants — from improving your daily relationships or going home for the holidays. Head over here to see them all!
A lot goes into being a family member, regardless of where someone falls on their tree. There are the holiday celebrations to attend throughout the year and the numerous birthday dates to remember, as well as the not-so-great details of recalling who is mad and who at any given moment and why no one talks about "the incident" of 2003 anymore. Much like a home renovation, family dynamics can be layered, which is why anyone who decides to combine the two should be thought of as brave and perhaps admiringly optimistic. 
Apartment Therapy has seen plenty of great before and after projects done for family over the years, whether that's a child repaying parents in the kitchen, an aunt looking out for a niece in her bedroom, or a dad doing work for his child in their new apartment. And these nine include some of our favorites, all of which employ budget-friendly DIYs — including peel-and-stick flooring, newly painted cabinets, and contact "wallpaper"—  to create solutions that anyone can emulate. 
Besides making for eye-catching transformations, these projects also prove that renos can be a way to connect with family, too. There's a lot of time and effort that goes into a quality upgrade, and that's the perfect time to catch up about your interests, share memories, and potentially bond over any setbacks in the before-and-after process. And more importantly, it's a chance to learn more about your family members specifically, from the colors they prefer to how they like to spend their time. Learning those details can be special, or at the very least, they can make future gatherings contain easier conversation starters. 
Read on for some of the best before-and-after projects completed with family members in mind, and use these examples as a chance to reach out to your favorite relative. Maybe you won't be swinging hammers together any time soon, but you can at least say hello. 
A Daughter Updates Her Mom's 1980s Kitchen With a Pink Palette
Architect Dhara Sanghavi remembers when her loved ones would gather in this former 1980s kitchen, but she knew those days were long-ago memories of its dated state. She took it upon herself to update this kitchen for her mom, the family cook, by covering the linoleum in peel-and-stick "pine," painting the walls pink, and installing wood fluting on the upper cabinets. The results are bold and bright, making for a modern backdrop that'll surely uplift many feasts to come.
A Sister Gives Her Brother and His Family a Dreamy Bathroom Redo
Hana Sethi wanted to give her brother, a COVID-19 pandemic essential worker, and her pregnant sister-in-law a gift to help make their lives a little easier. So she put her DIY skills to work to bring his two daughters — Hana's nieces — a much-needed bathroom redo. Gone were the beige-on-beige finishes; instead, Hana brought in light and bright touches like new geometric (and heated!) tile floors, hex tiled walls, a cheery floral wallpaper, and a newly painted emerald green vanity. Completing the project with the help of other family members made this DIY all the sweeter.
A Daughter Gives Her Mom a Cozy Hangout
Apartment Therapy writer Ashley Poskin noticed that her mom's office was more dreary catchall than cozy hangout. A few key projects changed that, though: New wood shutters gave the windows a finished look, bright blue cheered up the walls, and a wall of built-ins added lots of character. Now, it's a happy, inviting place for Ashley's mom to relax in.
An Aunt Gives Her Niece's Pink Bedroom a Grown-Up Update
Interior designer Jennifer Harrup was nervous to update her nine-year-old niece's bedroom, in fear that she might soon outgrow whatever updates she decided to make. But the existing bubblegum pink walls and tired furniture wouldn't do either, so she decided to work on a fun yet timeless refresh. She settled on a more sophisticated pink for the walls, which have a mauve undertone, and picked a matching striped wallpaper for the accent wall. The streamlined furniture creates more calm than chaos, and the gold accents will look good all through high school. In other words, this aunt made her niece proud. 
A Dad Builds a Small-Space Library for His Daughter
When Kate Ellis-Hill and her boyfriend Jake Edmonds moved into this San Francisco apartment, they didn't know what to do with the French doors that led to nowhere — they simply opened to a blank wall. Kate asked her dad, David Hill, for his advice as a carpenter, and he came up with the idea to convert the wall into a mini library. After a couple of weeks of planning and two days of labor, they now have a unique place to store and select their favorite titles. 
A Guest Room Gets an Adjoining Lounge for Visiting Family
Ane Irisarri lives in a 1900s German home known as a Fachwerkhaus, and its guest space had additional square footage that wasn't going to good use. She imagined that this adjoining area could be converted into a lounge for visiting family one day, and so she painted the walls and installed rainforest-printed wallpaper nearest the new yet upcycled dining area. Two pendant lights, an inviting couch, and a small spot for snacks and beverages complete the furnishings, making it a comfortable place for visiting family to unwind.
Two Parents Figure Out How to Help Their Kids Share a Bedroom
Sara and Gunnar Larson's Brooklyn apartment had a bedroom that could comfortably fit their toddler and tween — until the toddler was big enough for an actual bed. To make space for it, they nixed the lofted mattress and opted for two appropriately-sized ones on either side of the room. The couple then built a wall unit spanning in between, with enough space for toys, books, and homework. With existing verdant wallpaper and lots of additional colors, this bedroom suits both kids' imaginations, with square footage to spare.
A Daughter Gives Her Mom's Boring Bathroom a Fresh Start
DIYer Zoe Hunt's mom had a lovely bathroom to start with, but Zoe wanted to give her something that felt a little more personal to her tastes. Working with an all-blue palette — her mom's favorite — Zoe created a cool multi-dimensional shingled accent wall that feels completely unique to her mom.
Two Sisters Give Their Brother and Sister-in-Law a Comfy Bedroom Makeover
Caitlin Erickson and her sister Shane had just a weekend to transform their brother and sister-in-law's cluttered bedroom while they were away, and they made the most of their short time. As a gift to the expecting first-time parents, Caitlin and Shane created a more relaxing retreat, complete with a paneled accent wall, space-saving sconces, and cozy bedding to help them get some much-needed shuteye when their new baby finally arrived.