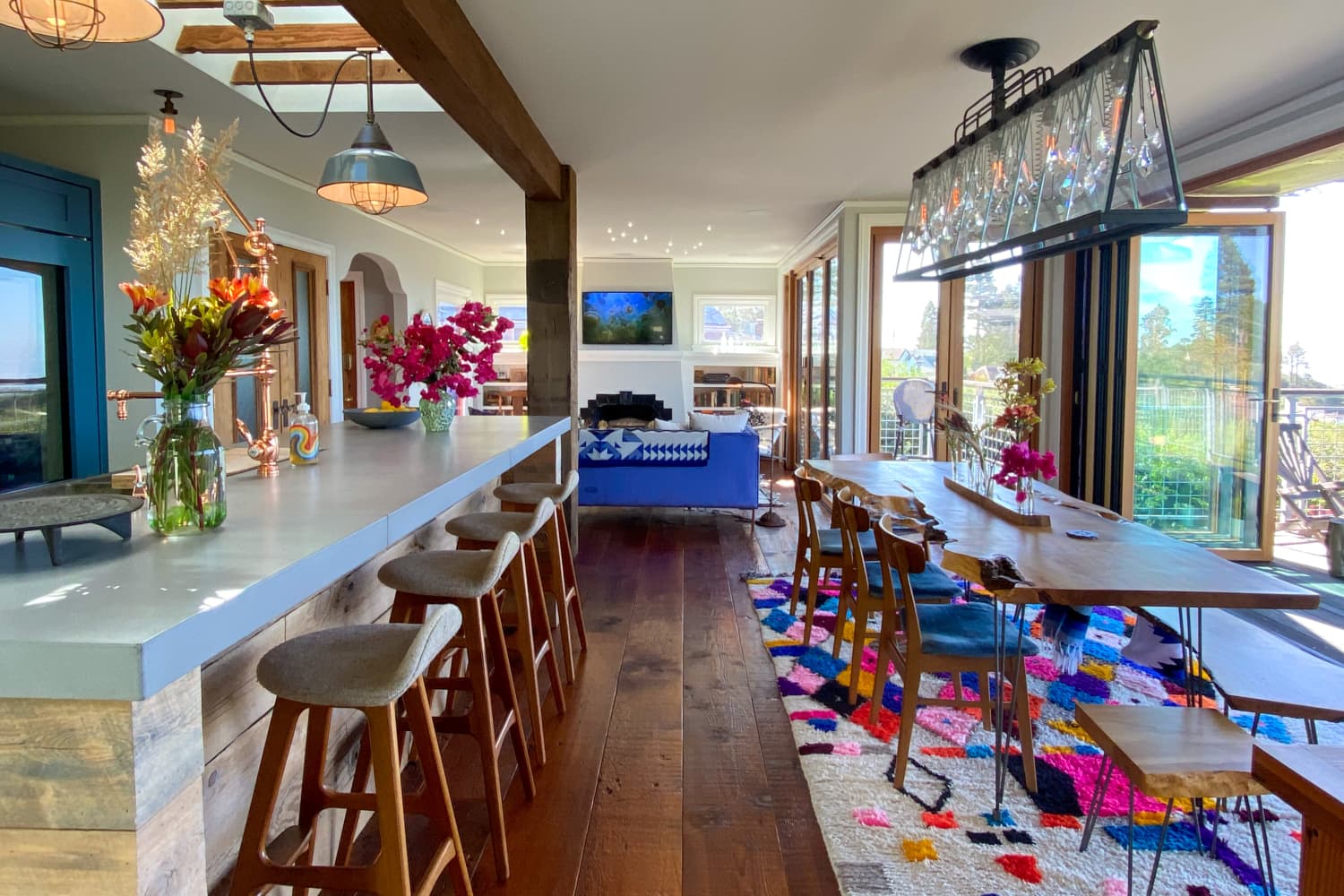 We independently select these products—if you buy from one of our links, we may earn a commission.
Name: Breeze Braunschweig (she/her), Kartik Ramachandran (he/him), and Bayou Bee, our 11 year old Catahoula Leopard Dog. (And oftentimes Brook Braunschweig (she/her), Breeze's sister; the guest bedroom is called "Brook's room").
Location: North Berkeley, California
Size: It was originally 2300 square feet, but we finished the basement and it's now 3,000 square feet
Type of Home: The house is technically a duplex, but can be used as a single family, duplex, or triplex, each floor having its own private entrance. We designed it this way to have flexibility.
Years lived in: 8 years, owned (The renovation took two years to complete!)
After two years in Chicago, my husband Kartik, our catahoula leopard dog, Bayou, and I were moving back to California. We knew we wanted to live in the East Bay, so we looked at 34 houses in multiple neighborhoods over the course of two weekends. As soon as we walked into the this house we knew it was the one. More specifically, the moment we took in the expansive view over the Bay and experienced the sun setting over the Golden Gate Bridge, we realized we would never tire of it.
The house is an older one, built in 1923, and we liked that we would celebrate its 100-year anniversary in 2023. The housing market was particularly competitive and we had to submit a love letter to the homeowner stating who we were and why we wanted to live in the house along with our offer. To our delight she chose us, stating that the house belonged to a newlywed couple as she and her husband had been when they purchased the place years ago. It was a "home for lovers" she said.
Apartment Therapy Survey:
My Style: I have a deep love of historic architecture and gravitate toward buildings with an inherent thoughtfulness. People say, "they don't make 'em like they used to," for a reason. I work in New Orleans a lot and I'm in constant awe of a 28" wide piece of barge board framing in a Creole Cottage, or the ornamental iron on a French Quarter beauty. When it comes to "my style" it always involves color, and incorporates vintage and antique architectural elements and furnishings. I loved the bones of the Berkeley house and wanted to open it up to that stunning view. Every element of the house features something that was found, or fashioned. The concrete kitchen utility sink, for instance, we found at Urban Americana salvage in Long Beach; we media blasted it to clean it up, then brought it to a coring facility to have a modern-sized drain hole cut into the basin. Alan Call, my business partner (who can fabricate anything!), welded a custom steel stand for the 200 lb sink to rest upon and then I sealed it. Lugging that thing around was no small feat.
Inspiration: Frida Kahlo's Casa Azul in Mexico City. We visited while we were working on the house and decided then and there we'd paint her blue.
Favorite Element: We were in a construction meeting one day discussing what materials to use for the awning and someone made a joke about airplane wings. I loved the idea and found an aviation salvage yard in Sacramento called Faeth Aircraft. I drove up and brought back a pair of mid-century Cessna Skymaster wings, which now serve as the upstairs awning, complete with recessed lighting. We installed them on my birthday and it was the best gift.
Biggest Challenge: We lived in the house for six months while it was gutted; the west wall was completely open to the elements save for a tarp. We had one hot power outlet in our upstairs bedroom (which was not gutted) and no lights. We had a microwave set up and battery operated lights. No heat, no kitchen. The upstairs bathroom was operable, which made staying in the house possible. A few times curious neighbors walked in thinking the place was empty and Kartik gave one couple a tour. We are pretty outdoorsy, but roughing it for that long together did have its challenging moments pre-coffee!
Proudest DIY: I stripped all 21 of the original interior doors in the house and finished them all with linseed oil. I can't stand to cover up that beautiful wood grain with paint. I love how each one is unique. Also, we hung antique doors including the basement bathroom barn style door, which is an old metal elevator door. We had to strip years of paint off of it. Alan designed and fabricated the custom barn door hardware and I found elevator door rollers.
Biggest Indulgence: The 12×12 structural redwood post in the living room was a splurge — it's from the old East Span of the Bay Bridge. Material became available as they were dismantling the bridge. I had meant to clean it up some, but it was installed before I got to it, so the post still includes the original nails and patina.
Is there something unique about your home or the way you use it? So much of the home is unique — but it's the small details I love. The star cut-outs in the kitchen cabinets lined with copper mesh, the single hand-painted dog tile in the range hood that the master builder Agustin placed himself. It's the relationships that I have cultivated with talented artists such as Mercedes Austin of Mercury Mosaics. This is what brings the house to life and makes living so much more enjoyable; every little detail has a story.
Please describe any helpful, inspiring, brilliant, or just plain useful small space maximizing and/or organizing tips you have: Finishing the basement was a huge value-add. It was a drafty, unfinished space housing the old boiler. It's now a 700-square-foot studio, which comfortably houses our friends and family. My friend Ramon Cornejo (RAMCO cabinets) built the custom sofa and bed nook at the window, which have pull-out drawers built in for storing linens, etc.
Finally, what's your absolute best home secret or decorating advice? My best advice is to incorporate what YOU love. Don't worry so much about trends or what anyone else will think. It's your home and a great opportunity to reflect your personality and to surround yourself with things that make you happy. Also, venture outside of the new furniture stores and go to estate sales, antique shows, etc. Look on Craigslist or FB Marketplace, Etsy, eBay, for second hand furnishings and local artists. Mix in the antiques and vintage, things that have a history. They're typically built to last, add character, and you can pat yourself on the back for reducing that carbon footprint.
Special Credits to Agustin Velazquez, a master builder not phased by any unusual request and an outstanding creative builder
This house tour's responses were edited for length and clarity.