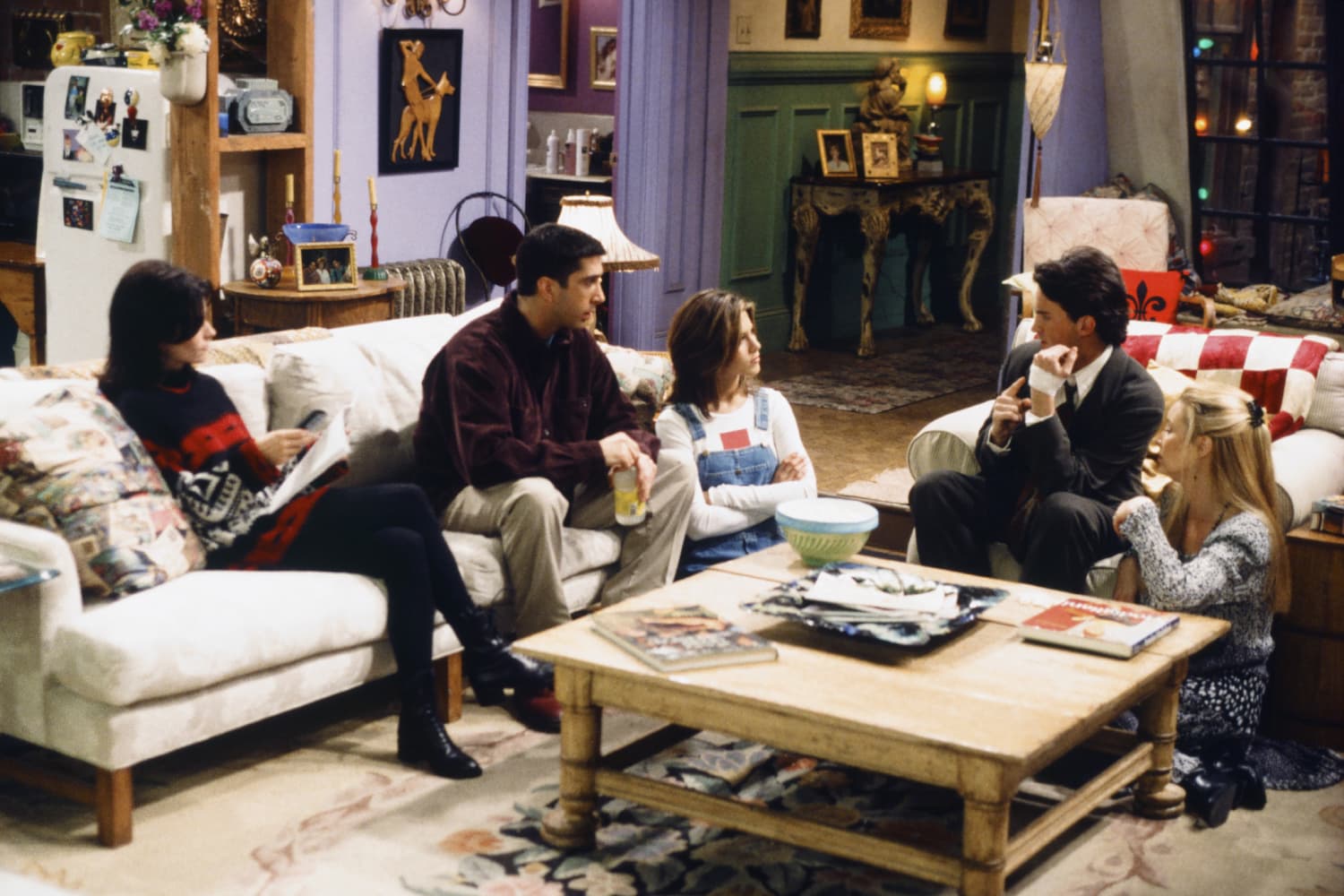 published about 3 hours ago
Monica Geller's iconic Greenwich Village apartment has had its fair share of imagined renovations, as well as its fair share of residents (first Phoebe before the show began, then Rachel, then Chandler). From a fifties-style redo right through to a 2020 update, there have been several fake changes over the years. While the living area and kitchen have experienced many a makeover, it's now time for the purple bathroom to have a little bit of TLC.
To help "Friends" fans imagine an apartment that hasn't always been purple, the team at QS Supplies has come up with six new concepts for the bathroom—from the wall color and furniture right down to the toiletries on the sink.
A world away from Monica's eye-catching purple bathroom is the farmhouse bathroom redesign (pictured below), which features bold black and beige patterned floor tiles, mid-century style fittings, rustic accents, and the pièce de résistance—the free-standing cast iron tub that is plenty big enough for Chandler to take a bath in. The wooden beam styling and antique-style chandelier add a vintage touch to the space, while the mirror, wall lighting, and brass accents bring an old Hollywood feel to the bathroom.
Another bold update, QS Supplies have also imagined Monica's bathroom as an industrial-style restroom. This style is synonymous with '70s New York City, which first came to light via Soho warehouse and factory developments. Industrial interior design has proved to be a much-loved choice in 21st-century pop culture, namely Dan Humphrey's Brooklyn apartment in "Gossip Girl" and Jess Day's converted loft in "New Girl".
Exposed brick, pipes, and beams are the framework to Monica's industrial-style bathroom, while white tiles, brass accents, and plenty of greenery bring in color and warmth. As for the black toilet… maybe this was inspired by Joey Tribbiani's?