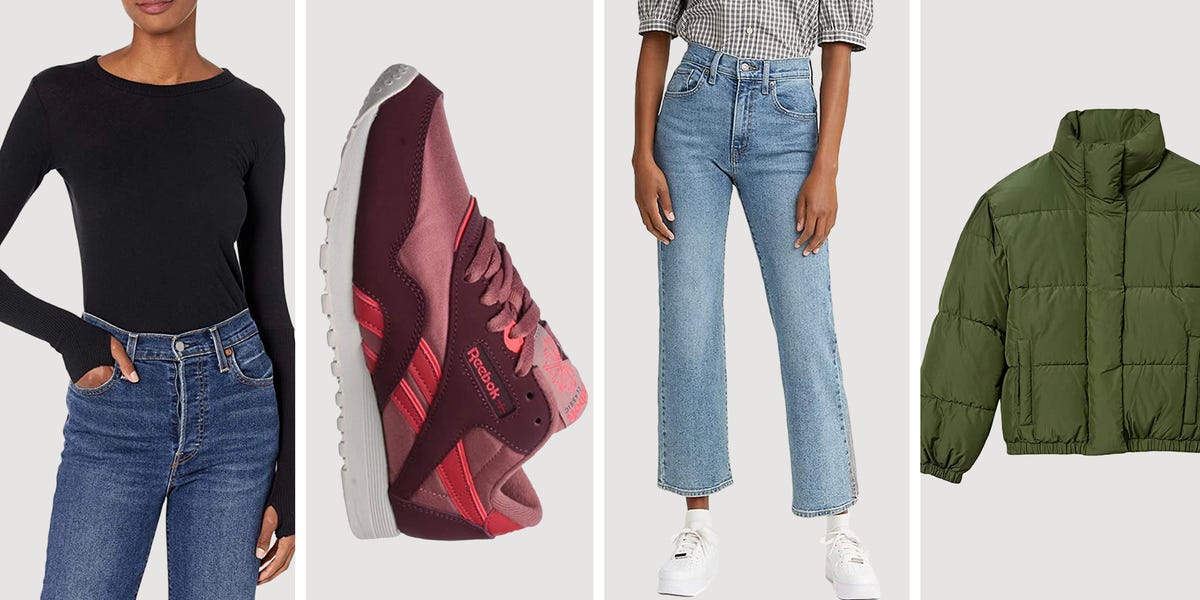 The rub of online shopping isn't the inability to touch and feel—it's how the joy of discovery and that special stumbling-upon-ness mostly gets lost. When I'm buying virtually, it's nearly always for something I already know I want. That can be a need (like the perfect black crewneck sweater) or a specific desire triggered by something (as in a pair of shearling-lined sandals I saw three different cool girls wearing in their feed). It's all super pragmatic, yeah, but way less likely to get my heart rate up.
In an attempt to reclaim some of the glory that comes with flipping through a rack and—ahhhhh!—unearthing a wholly unexpected treasure, I've started utilizing the Amazon Prime Try Before You Buy option once a month or so (up to eight items are shipped without a credit card charge; you return what you want and pay for the rest).
I might click into a specific category or lead with a broad search term—say, "denim"—but I'm never hunting for something. Instead, I just scroll with abandon and wait for my heart to leap and my mouse to stop moving.
Here, all the things that caught my eye recently and convinced me to give them a try.
1
High-Waisted Crop Flare Jeans
I tend to live in jeans in the cool months but have found sizing always varies (even with brands I know and already own). Trying them on is imperative—and getting to do so without racking up the credit card charges is clutch.
2
Mock-Neck Short Puffer Jacket
At this point, I really don't need any more winter jackets… but that doesn't mean I'm not on the lookout just in case. Shorter than my other puffers and with a nice funnel neck, this one could definitely be worth adding to the mix.
3
Classic Nylon Sneakers
You know that trusted adage that when you can't stop thinking about something, it's time to take action? That's me and this classic sneaker silhouette. I'm still a little skeptical, tbh, which makes a no-pressure try-on appealing.
4
Vegan Leather Bonita Shirt
I wasn't looking for a pleather halter top, but I wasn't not looking, either. Pieces like this are exactly why I'm a convert to Prime Try Before You Buy: I probably would have said this isn't very "me," but something about it caught my eye and made me wonder…
5
Cashmere Crew with Thumbhole
No matter how many perfect-for-layering thin knits I have in my closet, I always, somehow, seem to need more. They're the type of building blocks I never purposefully seek out but stumble upon instead. The slim cut and thumb hooks of this option grabbed my attention.
6
Woven Stripe Heeled Sandal
When it comes to shopping, you're either the sort who buys for the moment or is thinking ahead. I'm more the latter, which explains why I'm excited to try out these perfect-for-spring-and-summer heels. If they're a fit, I'll stare at them with longing for the next few months.
7
Long Laced Silk Slip Dress
This dress—a little '20s, a little '90s—literally took my breath away, and spotting it mid-scroll gave me that physical reaction I'm always chasing (the thrill of discovery is real). Fingers crossed it's even more gorgeous in-person.
8
Denim Avenall Jacket
My closet is good on standard denim jackets, but a chore-jacket style that's got a retro vibe is something I've been keeping an eye out for. I've never quite found the right fit or shape before, but I'll always (always) keep trying.
This content is created and maintained by a third party, and imported onto this page to help users provide their email addresses. You may be able to find more information about this and similar content at piano.io