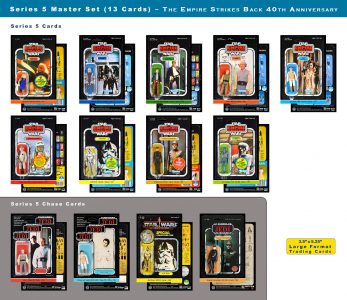 JTA continues to celebrate the 40th Anniversary of The Empire Strikes Back with our latest card back set: Series 5: The Empire Strikes Back 40th Anniversary.
Celebrating 1981's The Empire Strikes Back Kenner releases, this series offers the next 9 figures, plus 4 releases from alternate card backs. You can pick up this 13-card set over in our store. And, if you are new to our large format trading cards you can catch up on the entire run (including this series) in our 61-card master set.
Series 5 Details:
Each card measures 3.5″x5.25″

Designed to showcase the Vintage card backs and the various types of cards they were released on. 

Series 5 includes:

Ugnaught (ESB48D)

Dengar (ESB41E)

Han Solo (Bespin Outfit) (ESB41B)

Lobot (ESB41D)

Leia (Hoth Outfit) (ESB41D)

Rebel Commander (ESB41A)

AT-AT Driver (ESB48C)

Imperial Commander (ESB47)

Two-Onebee (2-1B) (ESB48B)

Lobot (Trilogo 70B)

Princess Leia Organa (Hoth Outfit) (Trilogo 70B)

AT-AT Driver (POTF92)

Imperial Commander (Lili Ledi ROTJ30B)
We will continue to build this set as long as there is support for it! Look for our next series celebrating the final run of The Empire Strikes Back and the next Star Wars Celebration next year!