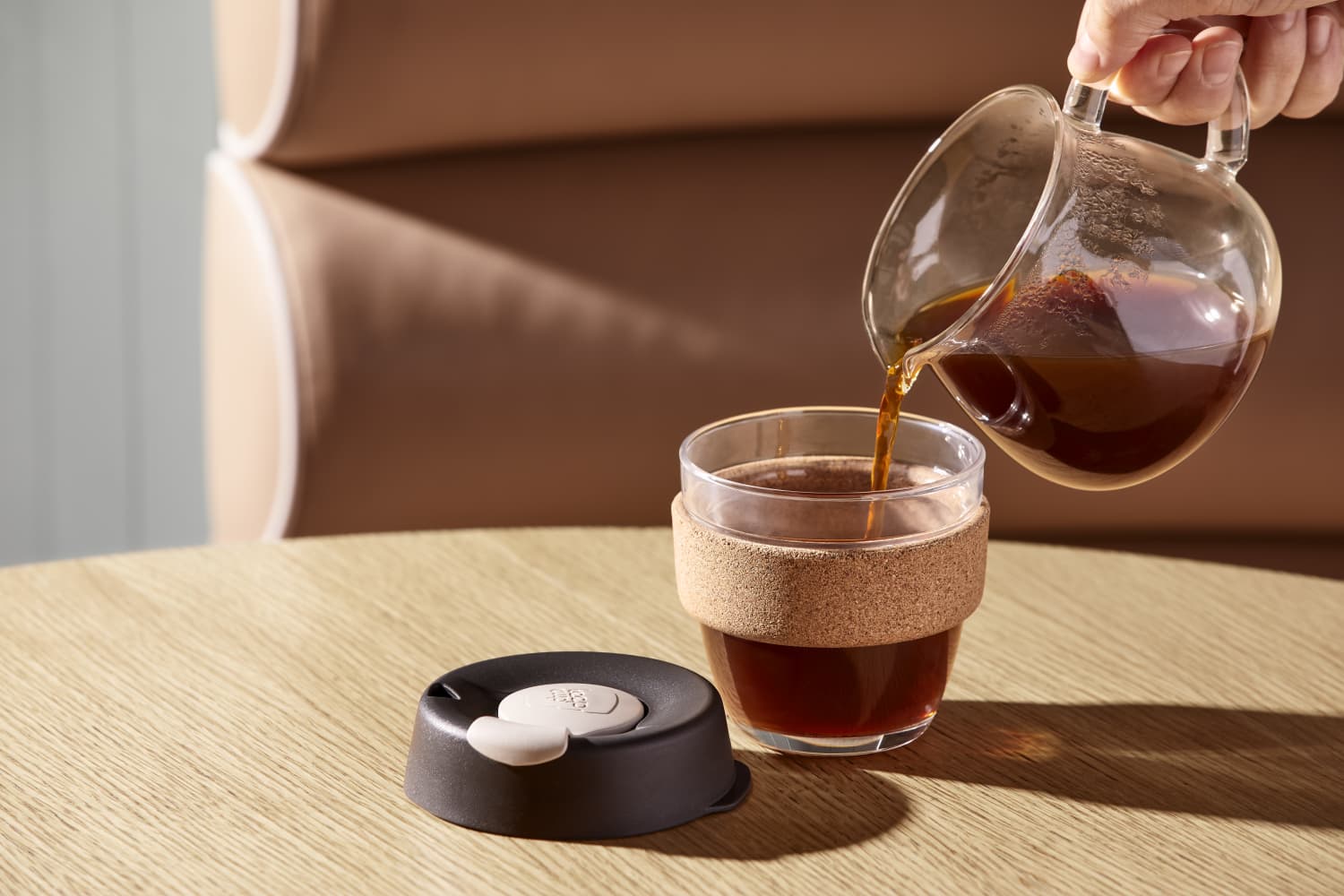 We independently select these products—if you buy from one of our links, we may earn a commission.
I don't claim to be a coffee expert — I'm still trying to make the perfect cup of joe out of my French press every morning — but I do know two things for sure about my favorite morning pick-me-up. The first is that it brings me joy, obviously. The second is that there's something about drinking coffee out of a glass cup that makes the whole experience even better.
For instance, I know I'm in a fancy coffee shop when I'm served a latte in a glass cup, the kind with grooved sides that widens at the top. I love watching the coffee and milk swirl together when I stir it with a spoon, something that us hot coffee drinkers don't get to enjoy as regularly as iced coffee fanatics. So you can imagine my joy when I discovered the world's prettiest glass travel coffee cup, the KeepCup.
These barista-standard reusable coffee cups were created in Melbourne, Australia, aka the coffee capital of the world. They have the most intentional design I've seen in a travel coffee mug, from the size of the mouthpiece to the way the cup curves so it fits perfectly in my hand. What makes them especially unique is that they come in different sizes that accommodate different coffee drinkers, ranging from extra small to large. I find that the small size is ideal for espresso drinks such as lattes, cappuccinos, and flat whites, while the large size seems like it would be perfect for filling with drip coffee from your home coffee maker and taking it with you.
In case you're wondering, they do sell plastic cups for anyone who doesn't trust themselves with breakable glass on-the-go, as well as thermal cups if you're a stickler for keeping coffee piping-hot. However, if you're someone trying to turn your to-go coffee into an experience worthy of an Italian café (ahem, like myself), then the brew-style glass is for you.
Lately, I've been using my KeepCup for when I treat myself to an afternoon latte from one of the cafés nearby to bring home and enjoy while I finish the workday. It's lightweight and easy to toss in my bag, plus it helps cut down on waste from using disposable coffee cups.
I tend to even use it with coffee I've made myself at home — it makes a regular coffee feel a little bit special. It's also speedy to clean, unlike a normal travel mug that usually requires a bottle brush. Plus, they'll make great gifts for any coffee lover because they come in so many styles and colors, but I think the glass cup with the cork band can't be beat.
Now excuse me while I sip on my latte from my room, imagining I'm sitting outdoors at a café in Barcelona overlooking the Mediterranean.