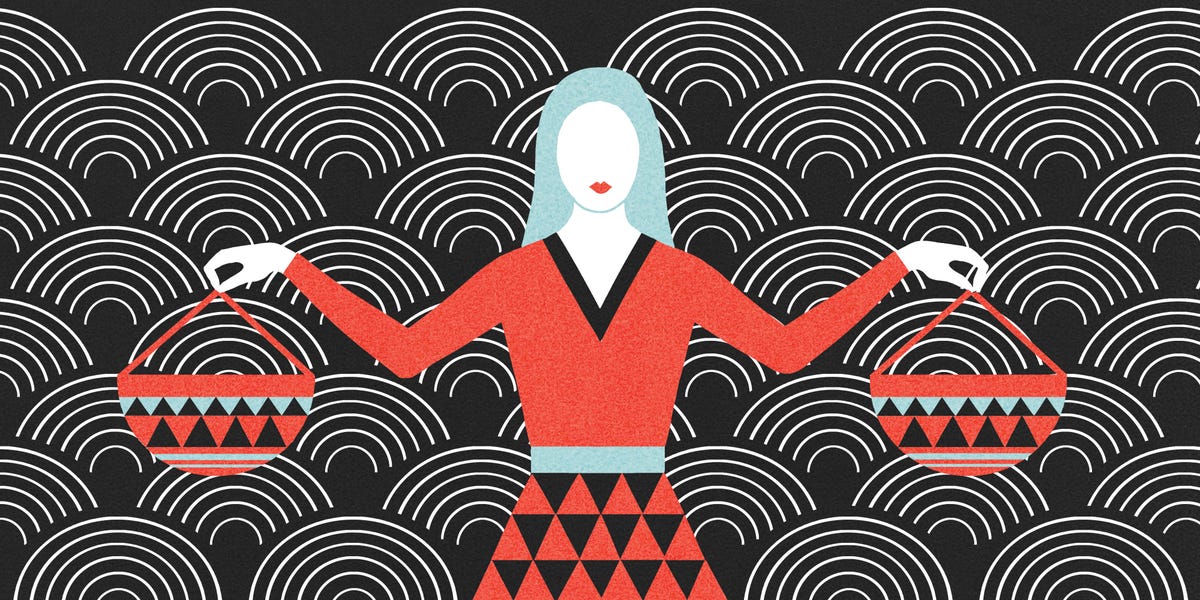 MONTH OF November
Get grounded, Libra. The Sun is in Scorpio and your stabilizing second house or work and money until November 21, turning your focus to practical matters. Work, money and settling into a routine are your top to-do items this month. Knock all those action items off your list before the holiday mingling season begins.
You could find yourself surprisingly busy now that four of the six retrograde planets that bottlenecked progress in September and October are direct (forward). Try not to get scattered. Sit down to prioritize and schedule the big "boulders" that matter most before you fill up your calendar. If possible, delegate the smaller stuff to others, or save it for later in the month.
Besides, things are likely to change even more after November 19, when the changemaking lunar eclipse (https://astrostyle.com/learn-astrology/solar-and-lunar-eclipses/) arrives at the Taurus full moon. This one starts off a new series on the Taurus/Scorpio axis that will reshape your approach to money, work, intimacy and investments between now and October 2023.
You can trade work for play after November 21, when the Sun shifts gears into Sagittarius and your social third house. While a balanced Libra always makes time for fun, you'll be glad you hustled a little harder before the holidays. The monthlong mingling and merriment of Sag season will be your well-earned reward.
The Sun is in Scorpio until November 21
The Sun is moving through Scorpio and your stabilizing second house until November 21, helping you get anchored and organized. With el Sol in this practical and productive zone, taking things one day (or hour!) at a time could be a lifesaving practice. Break big projects down into small tasks and look for ways you can be more efficient with your time, budget and habits. Keep it simple and don't overload your schedule. The second house rules work, money and daily routines. If you're looking to start a new regimen, you'll get an added boost from motivator Mars, which is also in Scorpio until December 13.
The November 4 Scorpio new moon ignites money and work opportunities
Fresh financial starts are favored on November 4, when the annual Scorpio new moon kicks off a six-month chapter for productivity and prosperity. If you're starting something new or circulating your resume, these galvanizing moonbeams will boost your efforts. Keep your ears perked for new work opportunities, clients or projects that can build your professional profile. Need to get your finances back on track? A course of action you begin today could return your balance sheet to good standing by the May 2022 Scorpio full moon.
Just watch out for unclass="body-el-link standard-body-el-link" expected expenses as this new moon will oppose unpredictable Uranus in your eighth house of mergers, lump sums and intimate ties. A person you're entangled with, financially or romantically, could be a disruptive factor in today's events. Perhaps you're starting a new gig, job-hunting or trying to forge a healthy habit. There could be a curveball to dodge as you attempt to simplify and stabilize your life. Try not to let any surprises throw you off, Libra. Stay true to your values and focus on your priorities, no matter what.
Mars squares Saturn on November 10
On November 10, intensifier Mars in your stabilizing second house locks horns with structural Saturn, which is in Aquariuclass="body-el-link standard-body-el-link" s and your fifth house of romance and self-expression. As Mars makes a challenging square to Saturn, you might face a tough reality check or have to make some major decisions. As much as you love someone, if your lifestyles and goals don't match up, it may feel challenging to go forward unless you're both willing to compromise and make clear agreements. And if they do, then it could be a matter of being a little more formal about how you operate within the relationship.
Maybe you're not sure whether you want to keep things fun and casual or to get serious. You'll have a chance to weigh the pros and cons today. Your timing and pacing could be off since Mars is the cosmic accelerator and Saturn is the brake. Consider all your options, but if you're not ready to make a final call yet, that's okay.
Mars-Uranus opposition on November 17
Money momentum…or mania? On November 17, hotheaded Mars in Scorpio and volatile Uranus in Taurus will oppose each other across your financial axis. You might have a sudden expense or unexpected bill come due, taking you by surprise. Pressure from your job or a shared endeavor could reach a breaking point. You might need to negotiate some new deadlines or level-set a person's expectations who's piling on the demands. Are you feeling stuck in a rut at work, ready to join the Great Resignation and quit? While this impulsive Mars-Uranus face-off can tempt you to act rashly, any sudden moves are likely to be regrettable—unless you're truly ready to rip the bandage off and take that leap into the wild unknown.
Eclipse season begins with the Taurus full moon on November 19class="body-el-link standard-body-el-link"
An intense moment of reckoning arrives on November 19, when the year's only Taurus full moon, also a potent lunar eclipse, lands in your eighth house of intimacy, merging and transformation. Ready to shed some layers and emerge a more powerful version of you? These moonbeams light the way. This full moon could also bring some kind of financial windfall, such as a loan, an inheritance or a commission. But be careful about mixing money with family. This eclipse will get snagged in a tense square to generous Jupiter in Aquarius and your pleasure palace, tempting you to play Santa Claus at your own expense by treating yourself extravagantly (not that you're not worth it!) or shopping for gifts that are a little beyond your pay grade. Have you been swinging between feast and famine, hedonism and self-deprivation? This eclipse can help you make sounder financial choices while you still enjoy your Libra luxuries.
No need to figure that all out in one sitting. This is the inaugural eclipse in a series that will activate the Taurus/Scorpio axis several times between now and October 2023. Over the next two years, get ready to discover some unexpected sources of income and investments, and for some Libras to completely overhaul your approach to money, property, joint ventures and how you earn your living.
Sagittarius season starts November 21
Don't forget your number one superpower: the gift of gab! On November 21, the Sun soars into Sagittarius and your third house of communication, setting off a super-social four-week cycle. Work the parties and chat up the intriguing people you meet. By sharing what you do and asking about their plans and projects, you could discover a few exciting synergies. If you're RSVP'ing yes to every Paperless Post and Eventbrite invitation to land in your inbox, pause to make sure you're taking all the needed pandemic precautions. Pick and choose carefully this year!
On November 5, your cosmic ruler, amorous Venus, nestles into earthy Capricorn and your domestic quarters, making the holiday season extra cozy. For Libras who enjoy entertaining, this month is perfect for house parties, family gatherings and reunions with old friends. New couples might have a little trepidation about meeting each other's families, but don't let that stop you. During this Venus cycle, bonding will most likely ensue!
Venus is here for an extended stay that will last until March 6, 2022. The downside is that Venus will be retrograde (backward) from December 19 until January 29, a challenging six-week cycle that can test the closest ties. Be proactive and make sure to get any issues out into the open before the holidays.
Whether you live together or on your own, beautifying Venus makes this a great time to redecorate your home, perhaps with the intention to make it more hospitable to you as a couple or to attract a romantic partner. One thing to NOT succumb to is the pressure to jump into or intensify a relationship. Only you know what's in your heart, Libra, so don't push either of you to commit before you're both 100 percent ready.
Your energy levels won't be flagging on ANY fronts, not with energetic Mars racing through passionate Scorpio and your sensual second house all month. From upscale holiday dates to luxurious gift-gifting, you'll go all in on everything you turn your attention to now. Stay alert though: Couples may argue about money or feel the weightiness of work deadlines cutting into your precious personal time. You could be logging such late hours that when you finally get home, you utterly crash. All the more reason to book those massages, whether solo or for two, instead of taking your frustrations out on those closest to you.
Money mojo and financial stress could well up in equal measure this November. All month long, activator Mars is in Scorpio, heating up your second house of work, cash flow and security. You could book an exciting project or land a new revenue stream, perhaps even score a promotion. The rub? Fast-paced Mars could bring super-short deadlines and demanding clients, raising your blood pressure levels. Make sure to prioritize and don't bite off more than you can chew. If you already have, delegate! Exercise and sticking to a healthy routine will also go far in dispersing any work-related stress. On November 19, the Taurus lunar (full moon) eclipse will beam into your eighth house of shared finances, joint ventures and power. A big investment opportunity, perhaps involving property, could crop up out of the blue. Word of an inheritance or a lump sum could arrive unexpectedly. You might also find yourself facing a large expense, such as a tax bill or debt coming due. Whatever the case, this could be your celestial signal to shift the way you handle money, both day-to-day income and long-term financial planning. Over the next two years, as more eclipses fall on the Taurus/Scorpio axis, you could completely transform the way you spend, save, earn and invest. Get ready for eye-opening lessons and a chance to make major money moves!
Love Days: 12, 15
Money Days:22, 4
Luck Days: 20, 30
Off Days: 27, 17
This content is created and maintained by a third party, and imported onto this page to help users provide their email addresses. You may be able to find more information about this and similar content at piano.io