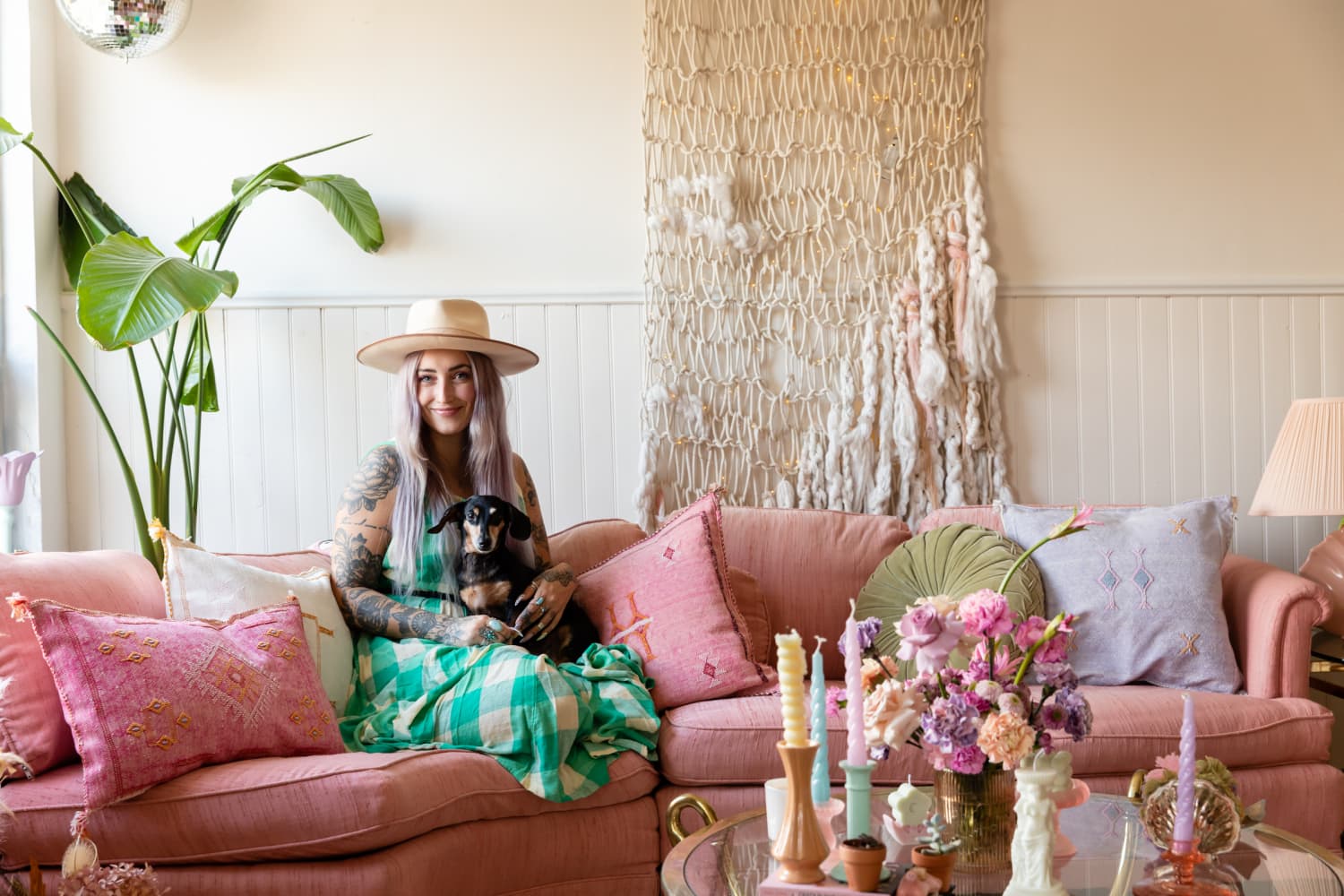 We independently select these products—if you buy from one of our links, we may earn a commission.
Name: Luna Lindsay, owner of Moonwix, partner Bruce Forrest, with Dachshund, Elmer
Location: Toronto, Canada
Size: 1200 square feet
Type of Home: An apartment above a storefront!
Years lived in: 2 years, renting
Full-time content creator Luna Lindsay feels lucky to have snagged this in-demand rental apartment off of Kijiji. "One of the biggest wins of our space was the fact that we have two floors; if you live in Toronto you know that it's like striking gold," she says. But while space was an advantage in this apartment, it certainly didn't look like it does today. "When moving in, my now pastel palace was the complete opposite of what she's blossomed into: gray walls, black trim, acrylic gray paint painted over original pastel pink tile in the bathroom (my absolute favorite feature of the apartment)," Luna explains. "Another must have for us is natural light to nourish all 108 of our plant babies and luckily our apartment faces east and gets an abundance of light throughout the day."
Along with caring for all of those plant babies, Luna continues to evolve their home's style thanks to thrifting and collecting cool decor objects from small businesses. And she also spends a lot of time in their home on painting projects. "I've fallen in love with creating fun shapes and adding as much color as I possibly can." And recently, her pastel palace has also been home base for her newest venture: making pastel soy wax candles for her new business Moonwix.
Apartment Therapy Survey:
My Style: Boho Pastel Chick
Inspiration: I really do believe that someone's home is a direct reflection of their personality and who they are. I love looking at life through color, so I knew I wanted that to be reflected where we live. Anytime I see other people wearing color or a fun painted house or building, it immediately sparks joy. I can't imagine living in a home that isn't bursting with colors, patterns, prints, and texture. I find lots of inspiration through Pinterest, TikTok, and of course, Instagram. One of the reasons I love social media so much is because there's an endless amount of inspiration, people who share your similar interests, and endless opportunity to always be inspired and create new things in your home.
Favorite Element: THE LAUNDRY ROOM, it's so much fun! I love the way the pattern from the wallpaper mixes with the area rug. I swoon over all of our painted accent wall pieces. I've become passionate with fun vintage lamps and vases. The kitchen backsplash is also a personal fave and one of the first things we did to start transforming our space (custom made from Canadian company Babasouk). Most importantly I love that SO many of the pieces that live in our space are from a small curated business; it makes them that much more special. A dear friend of mine Fiona (we met through Instagram), runs a vintage shop here in Toronto called The Apartment Life and our home is bursting with her pieces.
Proudest DIY: 1000% hands down the laundry room! The before of this laundry room was horrid; it was one of the spaces that you would just try and blast through because it had zero personality, and was gloomy and dull. The wallpapering took us a ridiculous amount of time since the walls aren't level and there are tricky bits to make it flow smoothly. That being said, wallpaper is such a game changer in how much personality and life it can bring to a space. We stacked our washer and dryer to optimize space, put down a polyester area rug that gives the appearance of floor tile (and spiced it up even more by styling a tiger rug on top), ordered a lavender storage locker that we matched to the floral wallpaper, and accented certain areas with pink paint to once again match the stunning wallpaper (from love vs design). I now want to hang out in the laundry room for fun haha.
Biggest Challenge: The biggest challenge was probably removing all the gray acrylic paint that was covering the original pink tile in the bathroom. Like most apartments in Toronto, our bathroom doesn't come with a window, so the ventilation is next to zero. You can imagine how light headed we were spraying paint thinner and working in a smaller area. The second challenge was wallpapering the bathroom and the laundry room. The walls aren't 100% level in here, which makes it difficult when it comes to lining wall paper up, but we made do! I think the biggest challenge when it comes to flipping a space is feeling overwhelmed at first with the amount of projects that you have on your list, but my best advice is to take it one room at a time. Create a moodboard of what you're thinking, pin your heart away on Pinterest, save all the accent walls on Instagram, and just start.
Biggest Indulgence: A toss up between the amount I spend on paint or my area rugs from shop hesby!
Is there something unique about your home or the way you use it? I use my kitchen as a candle-making studio, but I wouldn't really call that unique, more of a hot soy wax tornado. That being said, having my kitchen as the starter space to create my candles makes the story of Moonwix that much more heartwarming. I've always believed that expressing yourself within your own walls is so important, so to be able to create something within my own walls that someone else can then purchase to express themselves in their home is so special. OH and our pink vintage car toilet paper dispenser.
What are your favorite products you have bought for your home and why?
Please describe any helpful, inspiring, brilliant, or just plain useful small space maximizing and/or organizing tips you have: For saving space, if you have a washer and dryer and can stack them DO THIS, such a game changer! If you live in a rental, peel and stick wallpaper is incredible; it's easily removable and elevates your home so much (mine is from Love Vs Design). Area rugs are such a staple to tie a room together. I've fallen in love with throw pillows over the past year and love how much texture and color they can bring into your home; fave places to buy: Baba Souk, The Jungalow, H&M Home, Urban Outfitters. PLANTS, they bring so much life and joy into a space. If you're a new plant parent, there are many options for you: Pothos, Snake Plant, ZZ Plant, Pilea, Aloe Vera. I know many places don't want their tenants painting, but in my own opinion if you're/they're okay with you painting over it white when you move out then I say do it. You spend SO much of your time in your home, so why not make it the space that you've dreamt up.
Finally, what's your absolute best home secret or decorating advice? Don't be afraid to try new things or styles. Figuring out your space is all about trial and error. Play around with styling; moving furniture is a great way to always be reinventing your space. Lastly, if you have a painting idea, a DIY, literally anything you've been dreaming of doing — just do it, there's no "perfect time" to start. I think back to how I used to pin images on Pinterest that I would dream of my space looking like and my home is now that reality because I allowed myself to fully embrace who I am.
This house tour's responses were edited for length and clarity.