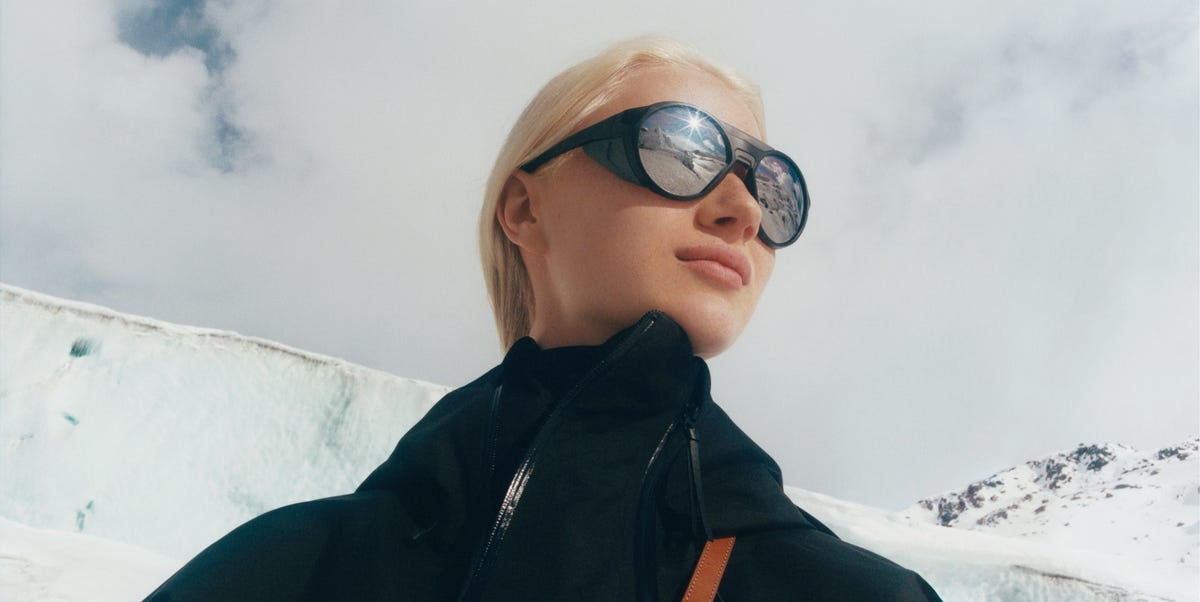 As we head further into fall and inch closer to winter, our wardrobes are getting bulkier and, yes, cozier. Fortunately, this month is rife with fantastic fashion news, curated below for your reading (and shopping) pleasure. Keep scrolling for this month's hottest drops, launches, and collaborations.
1
Jil Sander and Arc'teryx Team Up for Winter
Who: Jil Sander
What: Collaboration with Arc'teryx
Where: Available online at jilsander.com, arcteryx.com, and ssense.com as well as in Jil Sander and Arc'teryx stores and at select retailers worldwide starting Nov. 10
Why: Who said skiwear had to be boring? Jil Sander, known for its immaculate take on the "less is more" ethos, has joined forces with technical wear experts Arc'teryx for a mountain sports capsule collection. Men's, women's, and unisex offerings including a pair of bib trousers and a one-piece suit defy expectations of winter gear. Of the collab, siblings Lucie and Luke Meier, head designers at Jil Sander, said: "We could never find garments that balanced high performance with high aesthetic quality. Eventually, with Arc'teryx… we had the chance to design them." The chic know-how of Jil Sander's pared-back aesthetic brings new volumes and shapes to the slopes, without sacrificing weather-ready performance, designing with Arc'teryx's iconic 3L Gore-tex Pro fabric that promises to keep you dry and warm. Minimalists and utilitarian fanatics, eat your heart out.

2
Loro Piana Debuts Candle Collection
Who: Loro Piana
What: Scented candles
Where: Available at Loro Piana stores worldwide and on loropiana.com
Why: The easiest way to give your interiors an instant lift? An uber-luxurious scented candle. Loro Piana debuted its first collection of home scents that pay homage to the savoir faire of Italian candlemakers. Requiring three days to craft, they are composed of all-natural materials such as pure essential oils and food-grade dyes. The candles come in three delectable fragrances inspired by Loro Piana's rich textile tradition, taking you on an olfactory journey around the globe. With notes of spice and cedarwood, the Zibeline candle brings Mongolia to mind—the provenance of the brand's iconic cashmere. Jacquard, a fabric sourced in Myanmar, is brought to life through intoxicating florals. Lastly, the packaging of the Bouclé candle resembles a spool of yarn from which the fabric of the same name is woven. Light and fresh, the scent is reminiscent of the rolling green landscapes of New Zealand. In keeping with the company's commitment to sustainability, these candles have a renewable shelf life that far exceeds their 110 hours of maximum burn time. Once the last traces of wax vanishes, the fabrics and yarns from which the candles were made will remain, allowing them to be used as chic tableware.
3
Wardrobe.NYC Launches RELEASE 07 UTILITY
Who: Wardrobe.NYC
What: RELEASE 07 UTILITY collection
Where: Available online at wardrobe.nyc
Why: Wardrobe.NYC founders Josh Goot and Christine Centenera launched their business in 2017 with the idea that the perfectly composed wardrobe does, in fact, exist. By melding streetwear's affinity for hyped-up "drops" with an emphasis on exquisite tailoring typically relegated to high-fashion, Wardrobe.NYC carved out its own niche space in the market. Now, the cult label debuts RELEASE 07 UTILITY, a no-frills mini collection led by a raincoat and a parka. Rendered in water-repellent fabrics that offer breathability and mobility even in harsh climates, the two outerwear options from the release are key investments for the season ahead. Waist-cinching drawstrings and an elevated color palette of seafoam and black ensures they go beyond objects of mere utility, becoming assets to the ensemble underneath. In the campaign lensed by Jackie Nickerson and styled by Centenera herself, curve-hugging bodysuits, slim cotton pencil skirts, and stirrup leggings let the voluminous proportions of both jacket styles take center stage. RELEASE 07 UTILITY is available in either four or eight-piece packs to take the hassle out of your morning routine, rain or shine.
4
Frame Introduces Biodegradable Denim
Who: Frame
What: (Bio) Degradable denim collection
Where: Available online at frame-store.com
Why: Denim may be America's signature fabric, but Frame is spinning it from all green materials. Taking the next step toward its sustainable production goals, the Los Angeles-based apparel brand partnered with Candiani, a Milanese denim producer, to innovate three biodegradable styles: Rigid 727, Comfort Stretch 785, and Super Stretch 778. The first is crafted from 100 percent biodegradable cotton, while the latter two are made with ROICA V550 yarn that takes less time to break down than its conventional counterpart, and does not leave behind the same harmful substances. In an effort to cut down on harsh dyes and conserve water, each pair in the collection complies with Frame's pillars of responsible washing. The jeans make use of digital-interfacing technology as well. Scannable QR codes provide customers with environmental impact reports, reducing Frame's overall carbon footprint and emphasizing transparency. An ad campaign fronted by model Natasha Polly will run alongside unique store installations by British creative studio Isabel + Helen. Although they are biodegradable, these jeans are so chic you'll want to keep them for the long haul.
5
Zara Releases SRPLS Fall 2021 Collection
Who: Zara
What: SRPLS fall 2021 collection
Where: Available online at zara.com
Why: Calling all soldiers of style: Zara dropped the fall 2021 installment of its biannual SRPLS collection, just in time to help you navigate the conundrums of cold-weather dressing. Fusing rugged military influences with a city-slicker attitude, SRPLS offers updated iterations of closet staples: from a sharp-shouldered officer's coat to a satin-effect trench that does double duty as a dress. Although this season's lineup is rendered entirely in camouflage-inspired mossy green and khaki hues, the striking proportions and playful mix of textures ensure you will not blend in. For daytime, fend off winter's chill with patchwork leather pants and a faux-shearling aviator jacket. When dusk strikes, you'll want to suit up in a silken halter-neck parachute dress and stomp around in slouchy leather boots with chain-link accents. No matter what piece(s) you choose, Zara's stock of SRPLS is will undoubtedly help you conquer your day.
This content is created and maintained by a third party, and imported onto this page to help users provide their email addresses. You may be able to find more information about this and similar content at piano.io