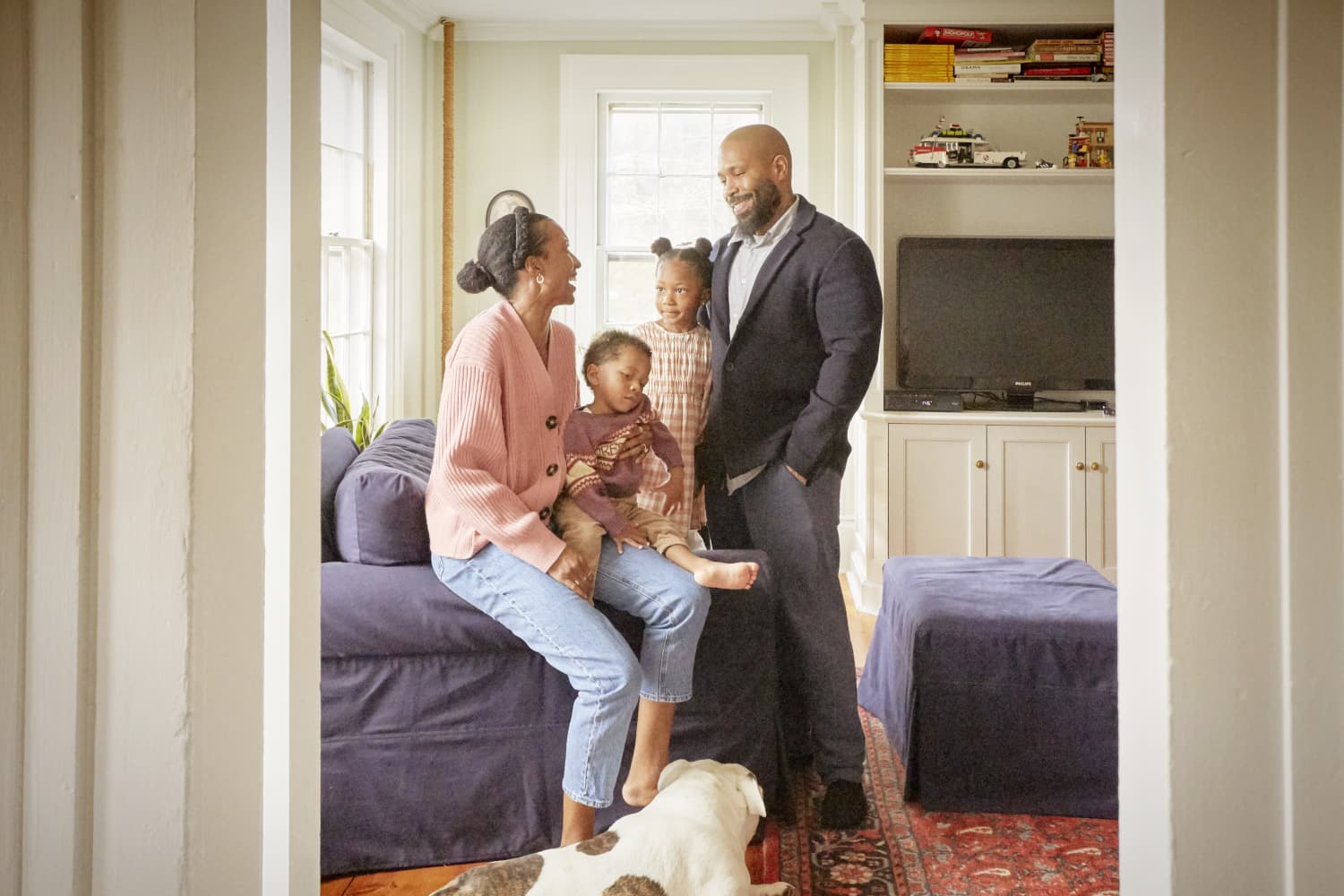 We independently select these products—if you buy from one of our links, we may earn a commission.
November is Family Month on Apartment Therapy! We're sharing stories all month about families — whether that's partners, kids, roommates, parents, pets, or plants — from improving your daily relationships or going home for the holidays. Head over here to see them all!
Name: Sade, husband William, daughter Sage, son Oliver, and dog Bo
Location: Central New Jersey
Size: 2000 square feet
Type of Home: Colonial
Years lived in: 3 years owned
When Sade, who runs the Instagram account @blackandolive, and her husband, William, decided to leave New York and find a slower, more quiet home to raise their family, they fell in love with the historic and colonial charm of this house in Central New Jersey. "Will and I have a soft spot for older homes and this one was perfect," Sade admits.
"Built in 1837 and well maintained, we saw its potential and we made it happen with a little cosmetic work. We love how quiet and private the neighborhood is, which is something Will and I had to get use to. It was a culture shock for us because we were so use to finding an event or activity in New York, but now with a slower pace environment, it's less hectic and we can appreciate the time we spend in our cozy quaint home with the children."
Apartment Therapy Survey:
My Style: The style of my home is a rustic modern colonial farmhouse.  
Inspiration: I pull inspiration from everywhere, really. Most of my inspo comes from magazines, Pinterest and Instagram; but what sparked my interest in interiors are the home tours I use to go to in Brooklyn. The way the homeowners would stage their homes for the tours made me want to wake up everyday to something just as beautiful.
Favorite Element: My favorites are the window views. We live on a hill surrounded by giant trees, and looking out can bring so much tranquility. From watching the seasons change to following the cars come down our winding road. It's such a grateful feeling. The fireplace is another favorite; we never owned one before so it is always an event for our family when we decide to light it, and we love to decorate the mantel especially during the holiday season. It's becoming a tradition. The floors as a favorite as well. When Will and I first saw the home listing, we were immediately drawn to the floors. The floors were scuffed but not damaged, just needed a little TLC. Once we sanded it down and stained it, the house lit up.
Biggest Challenge: The windows; the windows are original, which can be a challenge when the seasons change. In the winter it is very drafty, and in the summer the wood would swell or the paint would stick, which can make it a bit difficult to open. The windows are functional, but barely. Some of them we don't bother opening to avoid damaging them. We will have to change them when the time is right.
Proudest DIY: Well, I wouldn't say it was a complete DIY because we had a friend who is a carpenter that helped us changed a few things around the home. We did a small remodel to the children's bathroom; changed the floor tiles, the vanity countertop, and faucets along with removing the tub sliding doors. We bought pieces through local bath and hardware stores and made it work with what we already had.
We also added a chandelier in the dining room and removed the spotlight recess lighting that was there before. And there were bi-fold doors separating the dining room and den, we removed the doors and replaced with sliding barn doors.
What are your favorite products you have bought for your home and why? The dining room chandelier is one of my favorites. I feel like it's made a huge difference on the dining room's appearance adding volume and a bit of drama. It is definitely one of the first thing you notice upon entering the room, and that was my purpose. Another favorite is the sliding barn doors. It is a great functional unique piece that still allows light in if the room is closed off.
Biggest Indulgence: Painting the whole house and redoing the floors and it was worth it. We thought that the two would not look right without the other.
Please describe any helpful, inspiring, brilliant, or just plain useful small space maximizing and/or organizing tips you have: Do not keep items that don't bring you joy. I donate or throw away things all the time. If a piece of artwork, furniture, book, frame etc. does not serve a purpose, get rid of; it becomes emotional weight and clutter.
Is there something unique about your home or the way you use it? Our front door is extremely old. It still has the original doorbell that turns to ring, and the lock and latch with the original skeleton key that works. We do not use that door in fear of breaking it. We also have two heating pipes downstairs, one in our living room and another in the entry room. In fear of the kids burning themselves we had to figure out an aesthetically pleasing way to cover the pipes. So we wrapped them with manila rope.
Finally, what's your absolute best home secret or decorating advice? I get a lot of paint questions on my Instagram. Picking out paint for your home can be challenging because it's something that is potentially permanent, not only that; most concerns are "is the paint going to go with my furniture?" I always tell my friends to keep the paint neutral, do not go crazy with the colors (unless it is your style), that way if the walls are neutral your furniture will pretty much go along with the flow. Also, take your time when decorating, plan ahead, start a mood board of the things you'd like to incorporate in your home, don't rush in the furniture or artwork unless you are certain that it'll fit in like a masterpiece.
This submission's responses and photos were edited for length/size and clarity.