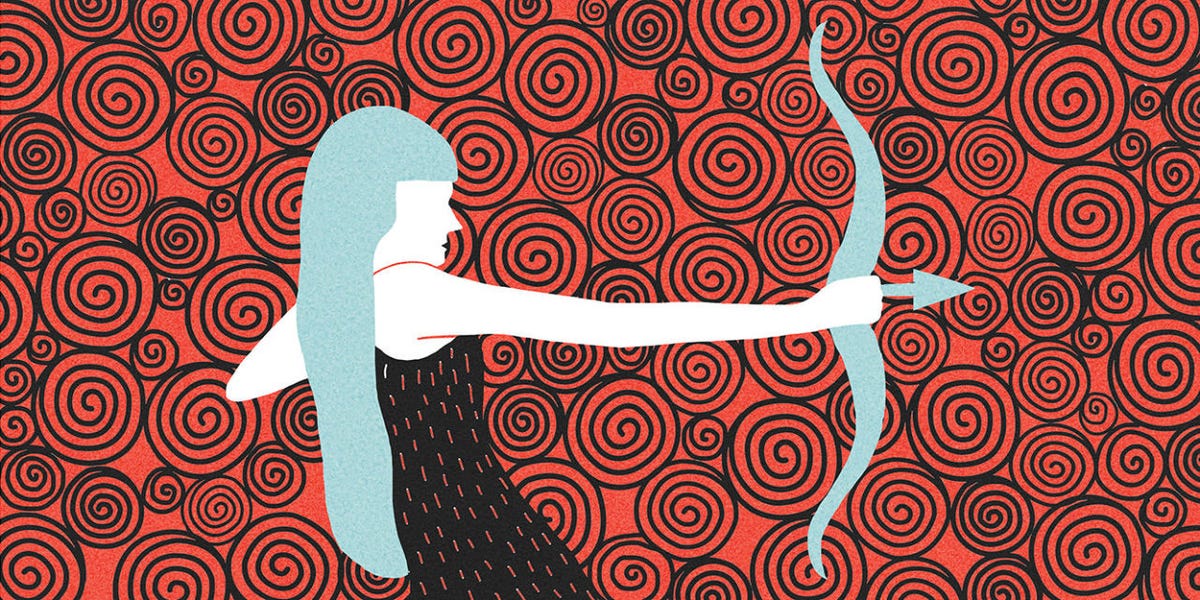 None
Let's get metaphysical, shall we, Sagittarius? Two cosmic events will have you viewing the world through your third eye this week. On Thursday, November 4, the year's only new moon in Scorpio activates your twelfth house of healing, empathy and esoteric experiences. One day later, Mercury follows suit, heading into mystical Scorpio and opening up the floodgates of your subconscious until November 24. During this time, you won't have to rev your imaginative engines to get them firing on all cylinders. And while you may not be able to set aside "practical" matters, you'll approach them from an enlightened place of acceptance. No, you can't change what has already happened. But you CAN dream up a more desirable future, then start taking steps to manifest it. And yes, we did say DREAM. Give this process time to unspool and try not to race into action when the first visionary idea strikes. With mental Mercury in the twelfth house, there's power in visualization, and if you're into it, prayer. This is an "ask, believe, receive" kind of phase. It's true: Energy flows where your attention goes. And because we're talking about Scorpio (as in, hello, shadow side), you may want to do some journaling to purge the darker thoughts that may arise.
Since the twelfth house also rules endings, goodbyes may be on the horizon. If you need to mourn a loss, give yourself the grace to feel every feeling. Even if parting ways is for the best, breaking attachments is painful, churning up sadness, guilt, even a sense of failure. Take some space, Sagittarius. You don't have to rush to smooth everything over. Time heals all wounds, but it's not simply up to you to set the clock for that process. Pull back and focus on your journey in the meanwhile.
Friday's skies will also usher in hopeful news for your finances when value-driven Venus, heads into Capricorn and your second house of income for an extra-long phase, until March 6, 2022. Spoiler alert: This includes a disruptive retrograde from December 19 to January 29, 2022, which may skew better judgment. But if you start getting your economic ducks in a row now, you should sail into the new year, crisis-free.
During this four-month cycle, your creative talents could pave the way to prosperity. Is that the luxury market calling? The finer things in life could find YOU now, Sagittarius. Warning: This can be a double-edged sword for your "more is more" sensibilities. Most Archers would rather go broke while fully experiencing life than be bored by (yawn) living within your means. And yet, if you ignore things like budgets and bank balances, you WILL bump into financial constraints quickly with decadent Venus in Capricorn. Find ways to get your fix that don't involve meeting friends for a pricey lunch every day or impulse shopping the second you scroll past a killer trend. In earthy, motivated Capricorn, beautifying Venus can inspire you to tackle a home reno project, learn how to snowboard or splurge on a fancy gym with a sauna that actually makes you WANT to work out.
And since Venus IS the planet of love, sweet simplicity will be your romantic (slow) jam as the year winds down. If you're looking for love, prioritize people who share your values. Coupled Archers might be happiest keeping your relationship separate from your public life. Don't feel pressured to mix every part of your universe together. Pay attention to bae's preferences while also sharing your own. Knowing how to please each other is part of the adventure, so while you're delivering a sermon on Eastern philosophy (or your latest reality show fix), you will also need to listen if you don't want to miss THEIR cues and clues.
This content is created and maintained by a third party, and imported onto this page to help users provide their email addresses. You may be able to find more information about this and similar content at piano.io