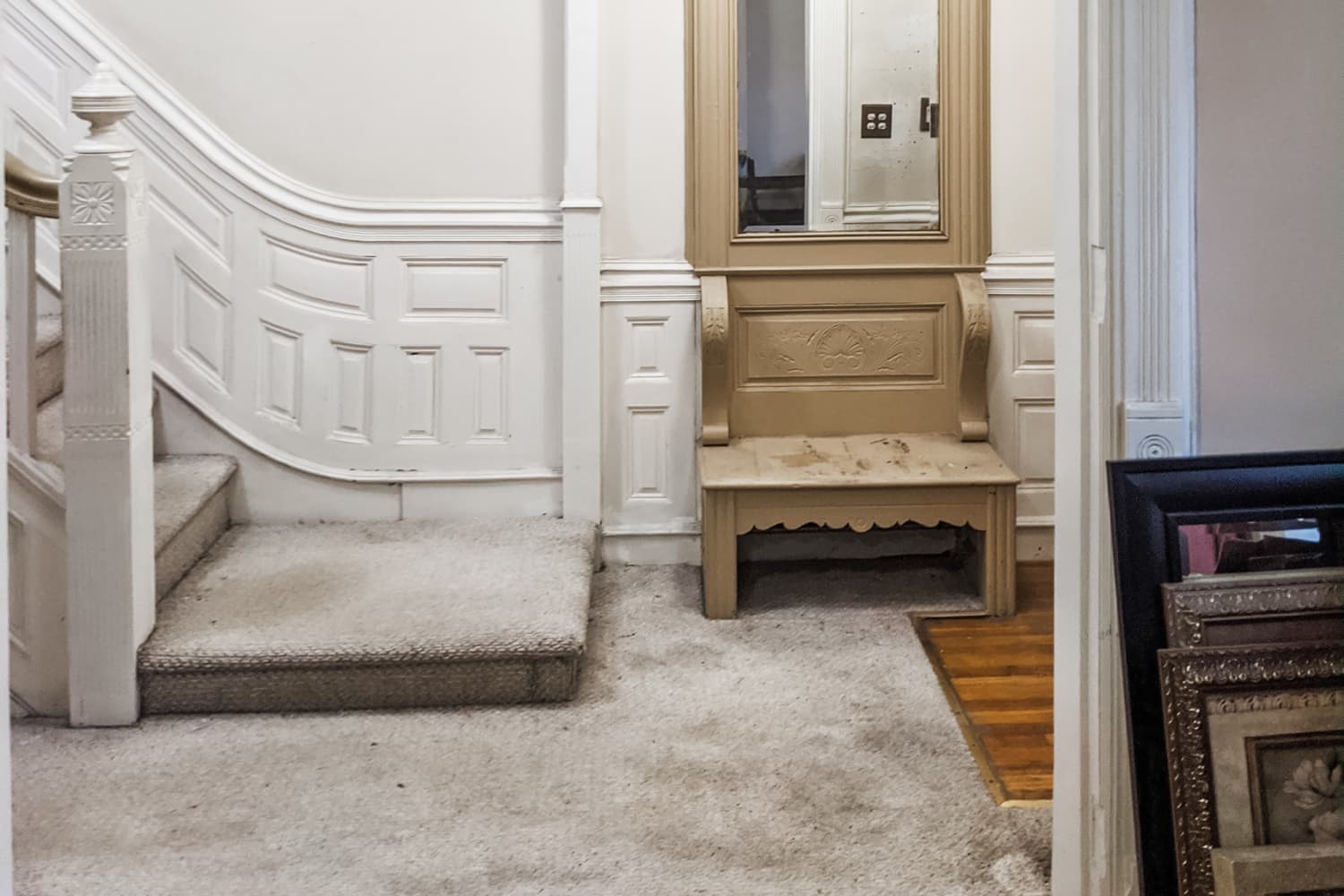 We independently select these products—if you buy from one of our links, we may earn a commission.
November is Family Month on Apartment Therapy! We're sharing stories all month about families — whether that's partners, kids, roommates, parents, pets, or plants — from improving your daily relationships or going home for the holidays. Head over here to see them all!
Name: David and Katrina Peralta, Olivia (daughter), Great Aunt Sylvia, Jonathan (David's brother who rents from us)
Location: Bed-Stuy (Bedford Stuyvesant), Brooklyn, New York
Size: 3,400 square feet
Type of Home: Brownstone / Row House
Years lived in: 1 year, owned
Since moving to Brooklyn in 2013, we pretty much decided then that our ultimate life goal would be to own a brownstone and renovate it to be our dream home. We wanted something with character that we could play off of and embrace, livable from day one (ish), but also not something that has already been given a heavy renovation. In early 2020 we started looking, but then Covid really kicked our search into high gear to get our family into somewhere with more space. Our sights were set on the Bed-Stuy neighborhood in Brooklyn and when we came across this house, we knew right away that it was THE ONE. The street is lined with full lush trees and very picturesque of a Brooklyn brownstone neighborhood, often times with neighbors sitting out on their stoops saying hi as you walk by.
When we moved in, the house was generally livable, (the former owner raised her son here for almost 18 years) and it was decently maintained. We knew we wanted to eventually do a gut renovation and make it the home of our dreams, but for the time being, the goal was to get our family out of our apartment and into the house. Still, we wanted to make it more to our style and aesthetic, and took about four weeks doing a light refresh to the home.
Underneath the existing carpet was hardwood flooring throughout the house. We were able to sand the wood, refinish it with new stain, and add a fresh coat of paint to the walls throughout the home, efforts which totally transformed the house from the start. We did all of this work ourselves. David and his brother did most all of the flooring work while I focused on cleaning all the nooks and crannies from the dust kicked up as well as painting throughout. We were able to get the family moved in and worked on a few other projects throughout the past year that were a bit more time consuming and work intensive. Our Brownstone is a true testament that you don't have to have a really fancy renovation to make a somewhat shabby home great, as most AT readers already know. There are smaller high impact things you can execute on that really transform a space from blah to "okay, I really want to hang out here." This will buy us some time to get to know what works best for us in this home, and create plans for our larger scale full-blown floor by floor gut renovation.
The house is admittedly rather large, but we use a lot of it up as a family. There is a studio apartment on the garden level, and instead of renting it out to a stranger, it's rented to David's brother. The kitchen is where we gather around for family meals most often. On the parlor floor (living room and dining) we hang out, have nicer meals, entertain friends, and enjoy movie nights. The third floor is home to our bedroom and another room being renovated to a home office/workout space that can also function as a guest room. The top floor works out so fittingly for our family, and is where we have our 3-year-old's bedroom, a playroom, and a bedroom for our Great Aunt Sylvia who helps take care of our kiddo. It's so perfect because it also has a bathroom and kitchenette up there, great for lunch and snack time for them so they aren't fumbling down three flights of stairs to our main kitchen. The backyard was a huge effort to overhaul and so worth it, too. It's such a great space for us adults to hang out and BBQ, enjoying a cocktail while our kiddo runs around and plays in her playhouse.
Apartment Therapy Survey:
My Style: Timeless and classic overall feel, paired with modern touches, particularly items you touch and feel (faucets, hardware) with a dash of Deco and Glam (think ribbed and fluted finishes, mixed metals, brass).
Inspiration: We are continuously inspired by the serendipity of the house, historical items and details in the home, and honoring the past while incorporating modern conveniences, good craftsmanship honoring the Victorian age but bringing it into the modern age with materials and modern construction practices.
Favorite Element: The parlor floor is easily the most grand space in our home and is easily our favorite element! From the bay window with a view overlooking the neighborhood, with original stained glass detail that lets light flood in, to the tall ceilings and towering mantel mirror, this room is quintessential Brooklyn brownstone vibes.
Biggest Challenge: Our biggest challenge has been planning and coordinating which rooms to address first and trying to work in the home while living in it. We had to prioritize the top floor for our toddler and great aunt Sylvia to live in because we wanted… needed… a finished space for them. Once that was complete we were then able to move onto the lower floors. We had to move furniture from room to room in order to refinish the flooring and paint, so for about three – four months the house was pretty upside down. Our sofa probably was moved to about four different rooms throughout the light renovation. We did our kitchen overhaul two weeks before hosting Thanksgiving so we would have a hard cut off of not letting it drag on and our family being without a kitchen.
Proudest DIY: Our proudest DIY has to be our backyard overhaul. We never intended to do such an overhaul our first year, but the more work we did, the more we used the space, which pushed us to keep doing more. When we moved in, the backyard was so overgrown that you couldn't step five feet out the back of the house without feeling like you were in a jungle. My dad loves doing yard work and flew in from Miami for a week to help us. Even still, it took us about five days (and 40+ trash bags) to clear out the backyard landscaping debris. We discovered the concrete was cracked everywhere and we had huge pile of bricks we didn't know what to do with as well as lots of extra dirt. David had the great idea to make a low retaining wall with the numerous bricks and then fill the space with all of the dirt we had on hand. This ended up making a very cute elevated space for our daughter's playhouse.
Our family sat around the fire pit throughout fall and even in the winter, we played in the snow and made mini sledding hills, and just enjoyed it so much we started planning a larger overhaul in spring. In order to erect a new fence, we had to remove a decades old cherry tree that was the culprit of our cracked concrete, and sat on our property line. We asked the tree cutting company to only cut the tree down, not remove it, and they were very skeptical, fully expecting us to call them back a week later to haul it out. Instead David took a chainsaw to the tree, cutting it up for firewood this fall (and likely years to come). Building the fence was a family affair, with David enlisting his brother and dad to help with the execution. It really brought the backyard together… the broken concrete looked less drab with the clean and modern fence and landscaping added warmth and coziness to the dark fence. You can even spot the firewood lined up nicely behind the sofa.
Biggest Indulgence: We certainly indulged and splurged on our appliances. These are items we plan to use for years to come and wanted the best on the market so that they aren't outdated a few years in.
What's your absolute best home secret or decorating advice? If you want to try something fun and outside of your comfort zone, paint is a great go-to tool. If you find you don't like it, or you get tired, bored, etc, you can paint back over it and it's one of the easiest and cheapest ways to make a huge impact on a space. For more large ticket items, timeless and more neutral pieces are often a great bet; they will play nicely with aforementioned paint experiments and are easier to style and pair with more of-the-moment trends and colorways.
This submission's responses and photos were edited for length/size and clarity.