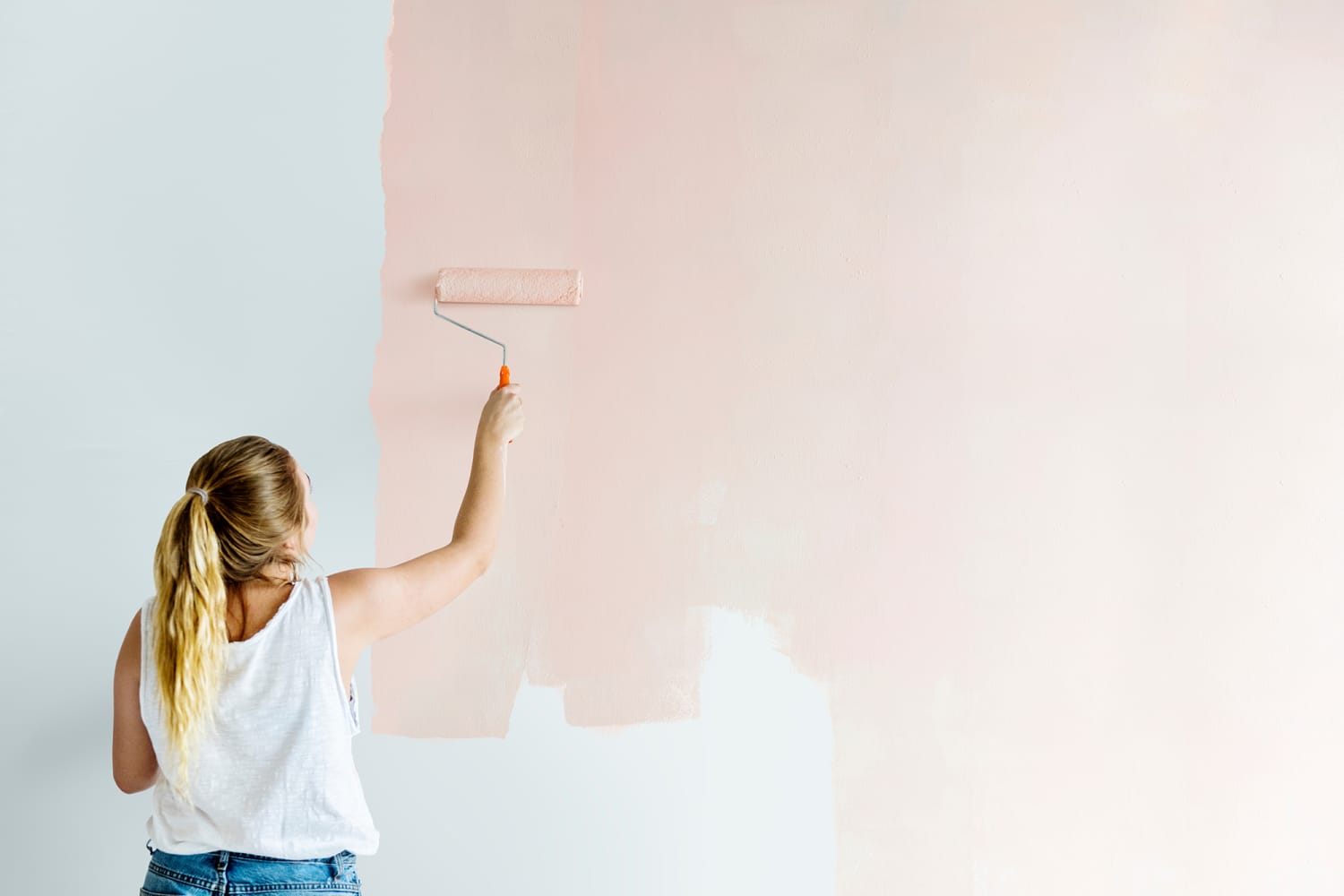 Before you sell your house, one of the first pieces of advice you'll get is to freshen up the place by painting every room with a fresh coat. So, you dutifully pick the right color to woo buyers (it's usually some shade of off-white) and then, if you're like me, you get tripped up by the finish. Satin, eggshell, gloss, semi-gloss — how do you know which one to choose? Well, it depends on the room. Here are the best finishes for every type of space, according to real estate agents.
Living Room and Dining Room
In the living room and dining room, opt for an eggshell or satin finish. It hides flaws and imperfections — especially on uneven walls — and makes the room look more high-end, which you definitely want when you're showing your house. During the day, it looks rich and plush, and in the evenings, an eggshell or satin finish gives walls a luster that's particularly elegant when light reflects off of it. Plus, these finishes are easier to clean than matte finishes, which is great for rooms where spills are more likely to occur.
Pick a semi-gloss finish for the bathroom and kitchen. It's easy to clean, durable, and showcases the best parts of each space.
"It works well in most spaces to reflect light and highlight the materiality of the surfaces, and it's also practical for its cleanability," says Kate Wollman-Mahan, an agent with Warburg Realty. "Trims and bathroom surfaces become scuffed up over time and need to be cleaned more frequently, and semi-gloss is a more durable finish."
Unless you're doing some really messy work in your bedroom on a regular basis, pick a flat or matte finish. The two finishes aren't as easy to clean as the others, but you likely won't have much of a mess to clean off your bedroom walls anyway. The finishes also absorb light, which will make those early mornings a little less bright and a lot more bearable.
OK, it's not really a room. But the ceiling is just as important as the rest of the walls. You want to feel comfortable and relaxed, not trapped and boxed-in. Paint on the ceiling can do just that.
"I always recommend flat, white paint for ceilings with a subtle touch of pink for a warm glow," says Parisa M. Afkhami, another agent with Warburg Realty.
No matter what finish you've used in the rooms throughout your home, stick to gloss or semi-gloss for trim and woodwork. It's shiny, yes, but that'll bring a nice contrast into the room and make it look more modern to buyers. It's also easy to clean, something you'll find valuable when people are trampling through your home for showings and likely scuffing up or getting fingerprints on the trim.